casa
A universal remote for smart home devices
Role

UX Research Lead
Product Designer
Contributions

Semi-structured interviews
Usability testing (guerilla & moderated)
Persona development
High fidelity prototypes
Interaction design
Branding
Tools

Axure
Sketch
Illustrator
InVision
POP
The Challenge
How might we find an easy and cohesive way to control all the digital devices in one's home because the separate control systems are currently hard to keep track of and can be difficult to use?
WHAT IS THIS?
The smart home devices market is saturated with different devices for people to streamline their home environment. While the emergence of these devices is aimed at simplifying users' daily lives, it's currently really difficult to manage all the devices. My team was tasked with creating an integrated platform so users can easily control everything in their home through one single interface.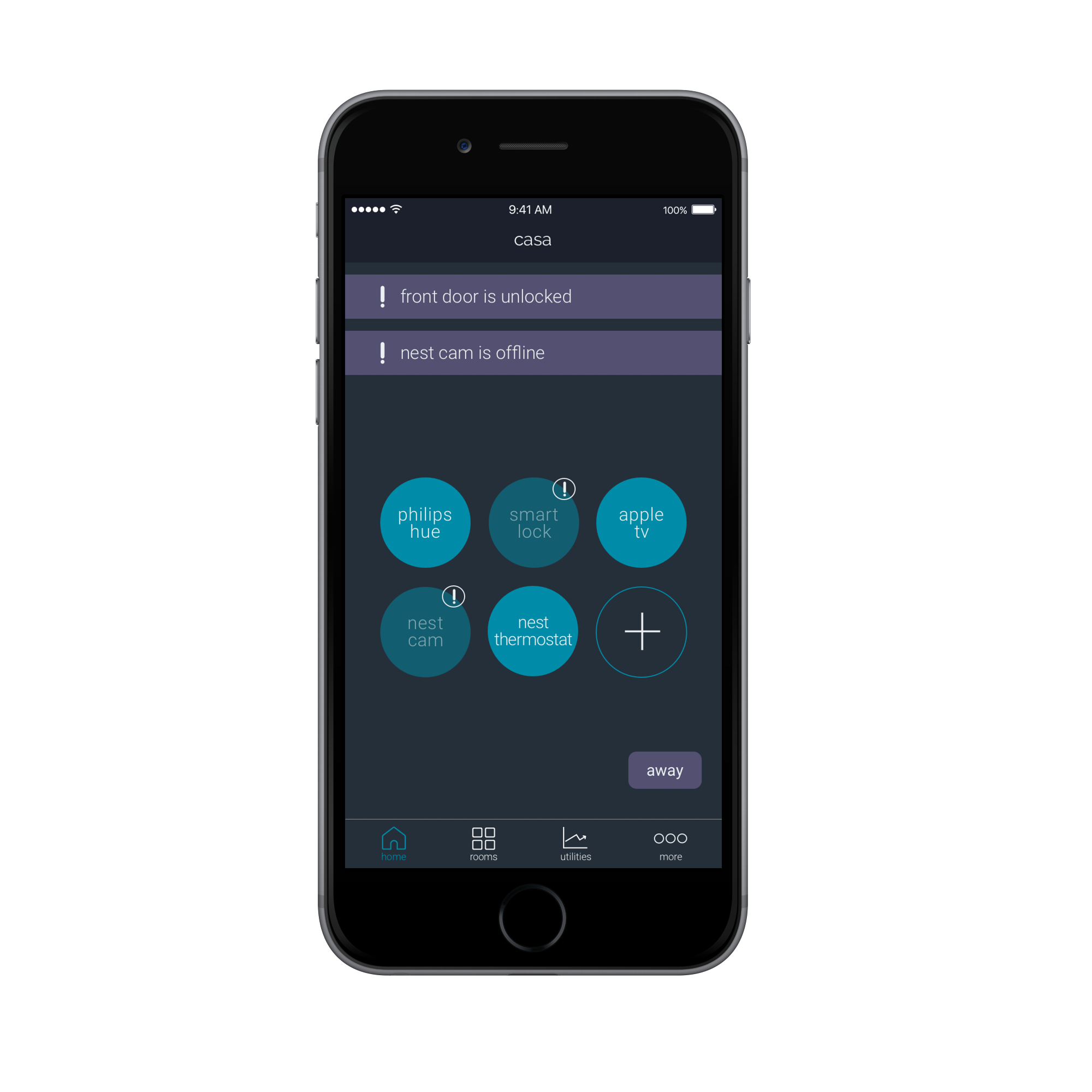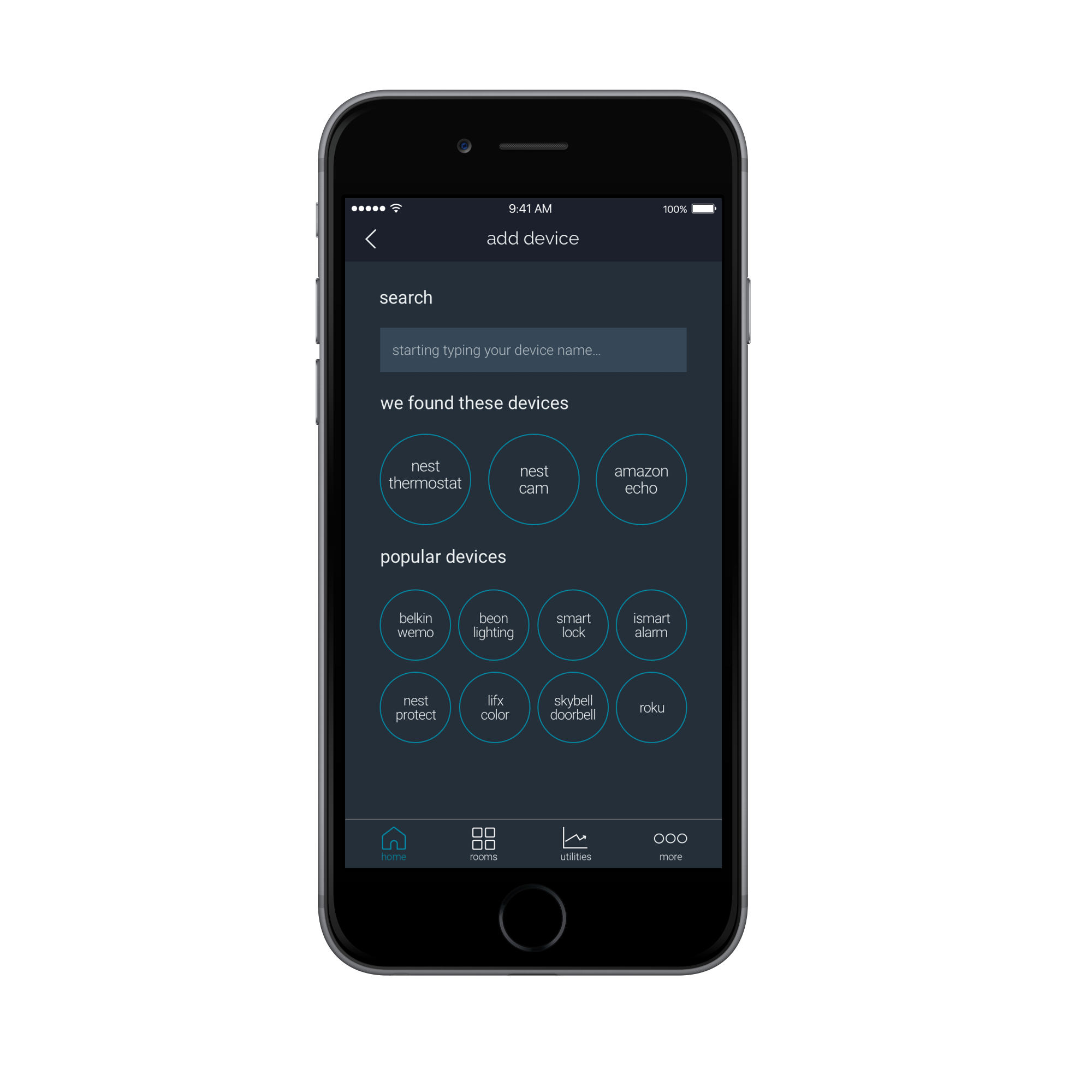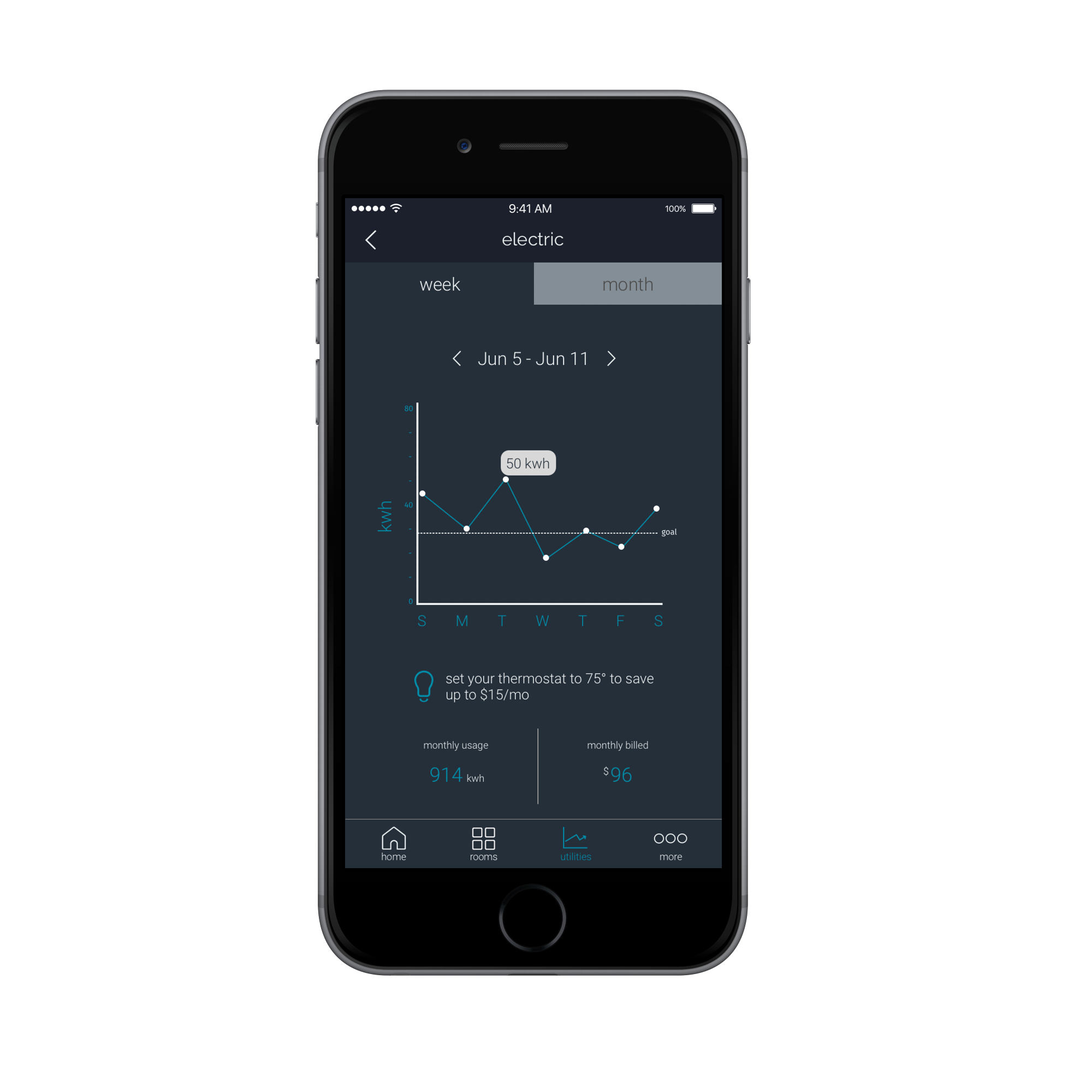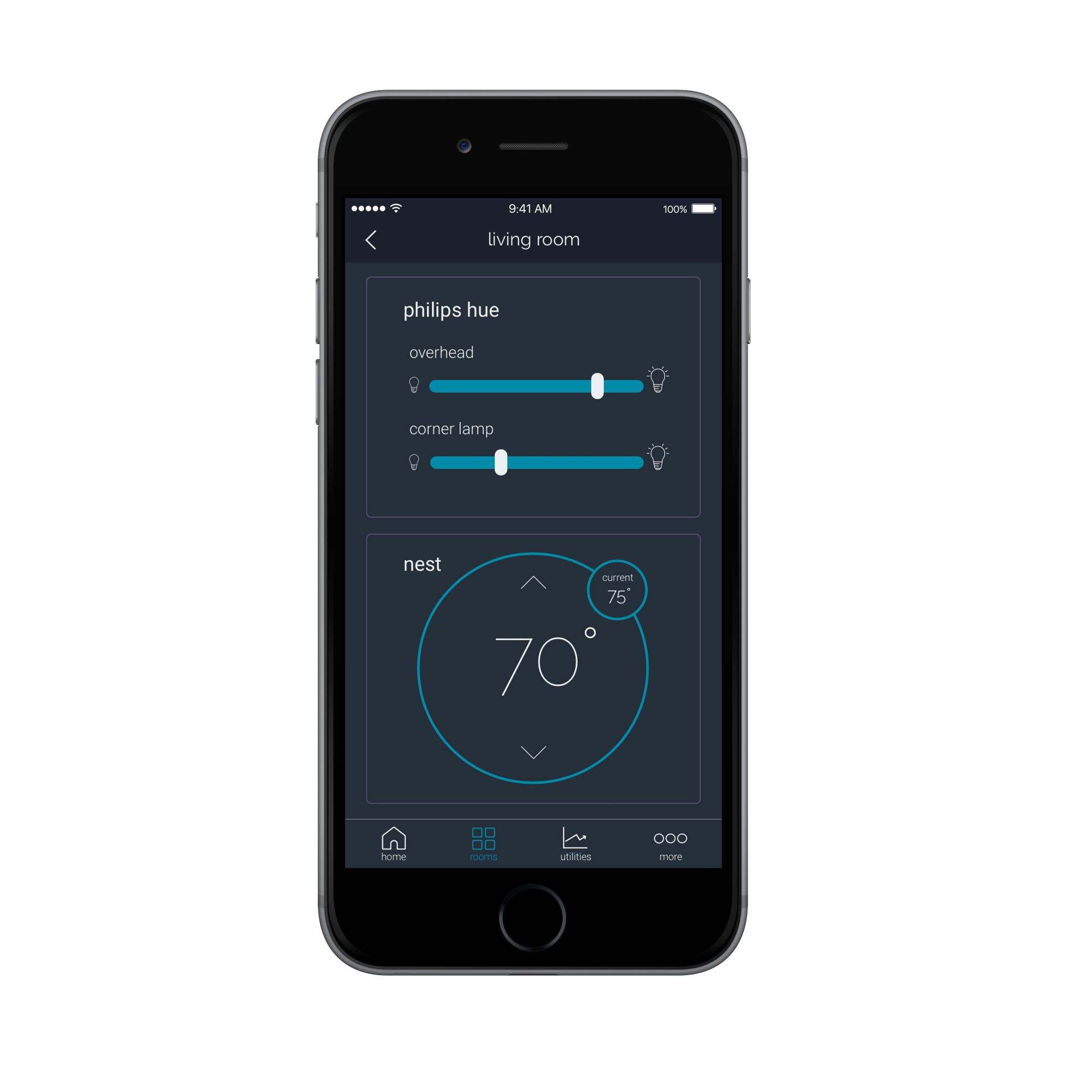 Manage and monitor your smart home. Stay updated with dynamic updates on the state of your devices. Feel secure, knowing you'll receive alerts when you're away from home and something is amiss. Save money with detailed energy usage reports, including tips and guidance to help you meet your monthly goals.
RESEARCH
We began to tackle our problem space with limited understanding of the smart home device market, its adoption, and its usage. As non-users ourselves, we wanted to better understand our users by addressing our two initial research questions:
Why and when do people purchase smart home devices?
What do people wish they could do more easily when at home?
I led our research efforts by sending out a survey that yielded 52 responses & learned:
Most people will wait until new apps or devices become more popular before pulling the trigger to purchase.
Most people don't have a traditional home security system but 65% use a smart home camera monitoring system of sorts (for pets or security).
People care hugely about utility management as it relates to money saving.
Smartphone or tablet is the preferred method to control home environment.
With only two days to conduct user interviews, I decided guerilla research was the best way to reach participants since we had limited time to schedule and/or account for no shows. I chose Merchandise Mart as the best location to recruit participants because it's a high traffic building where people either enter and exit as part of their commute, to dine, or from work.
We recruited and interviewed 16 participants in a two day period. Participants varied in age and familiarity with smart home devices but all had at least one smart home device or service.
The following trends emerged from our interviews:
Renters are less willing to spend on smart home devices since they don't want to spend money outfitting their temporary home.
Smart home devices to manage entertainment services like Netflix or HBO Go have reached heavy saturation.
Tracking energy usage is important because people care about cost.
From our research, we found two groups of people to target our design for: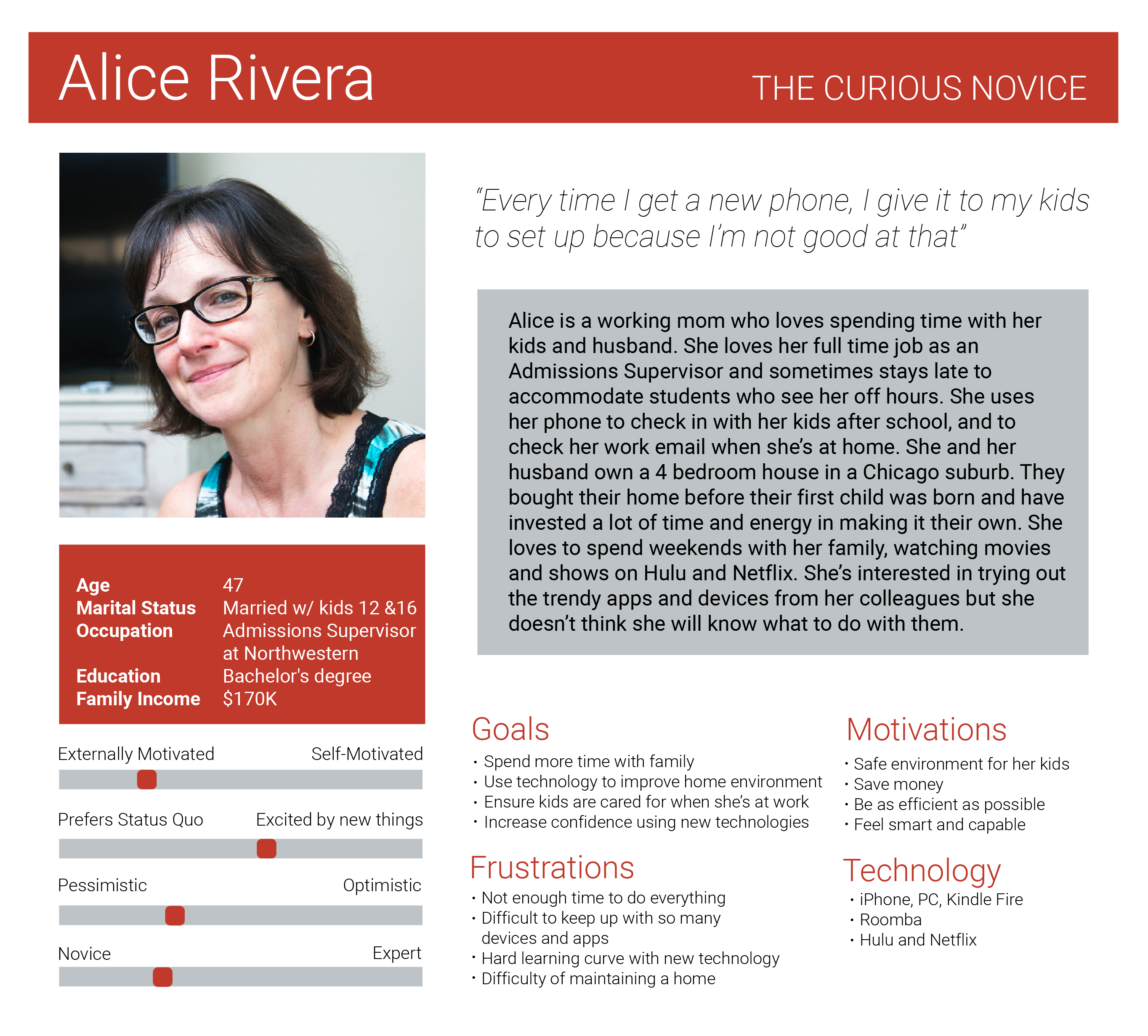 Working mothers or fathers who try to use technology to manage their busy lives.
Tech savvy early adopter of gadgets and services who needs an easy way to manage his or her many devices.
In order to guide our design exploration, we established the follow design principles:
Flexible: Allow users to customize their app experience and access the information they want to see at a glance.
Empowering: Encourage users to take charge of managing their experiences regardless of their technical ability.
Familiar: Utilize recognizable design so users don't have to learn yet another system.
Anticipate: Our users are busy, anticipate their needs without the need for micromanagement.
We created a journey map for our primary persona to help drive our design
CONCEPT DEVELOPMENT
We generated 15 concepts by doing team round robin, card sort, and rapid sketching. These concepts were run through two rounds of testing for concept acceptance and usability.
We ultimately narrowed to these three concepts that we tested using paper and Axure prototypes: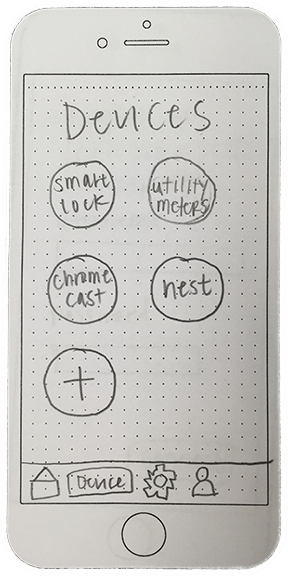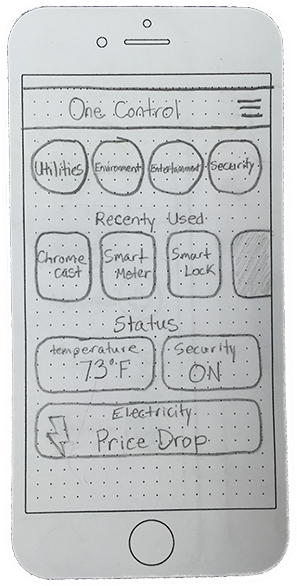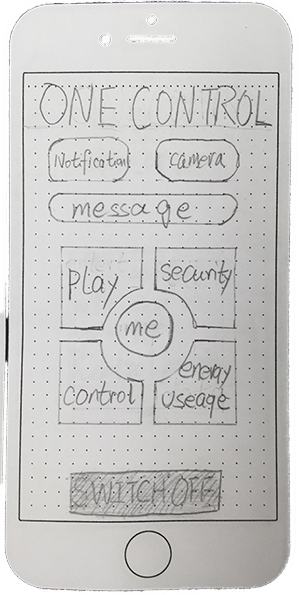 I led our first round of testing by moderating all 5 participant interviews with the help of Tara and we learned:
Users want to access to control with as few clicks as possible
Clear status displays are preferred
Clean and simple home page is important to users
People wanted to see energy usage coupled with cost visualized in a graph
People highly value and prefer success messages when completing a task
Our categories (determined through earlier round of card sort): utilities, environment, entertainment, security are confusing
I ran a second round of testing with Axure prototypes because it allowed us to test navigation which was an issue paper prototypes highlighted in the first round.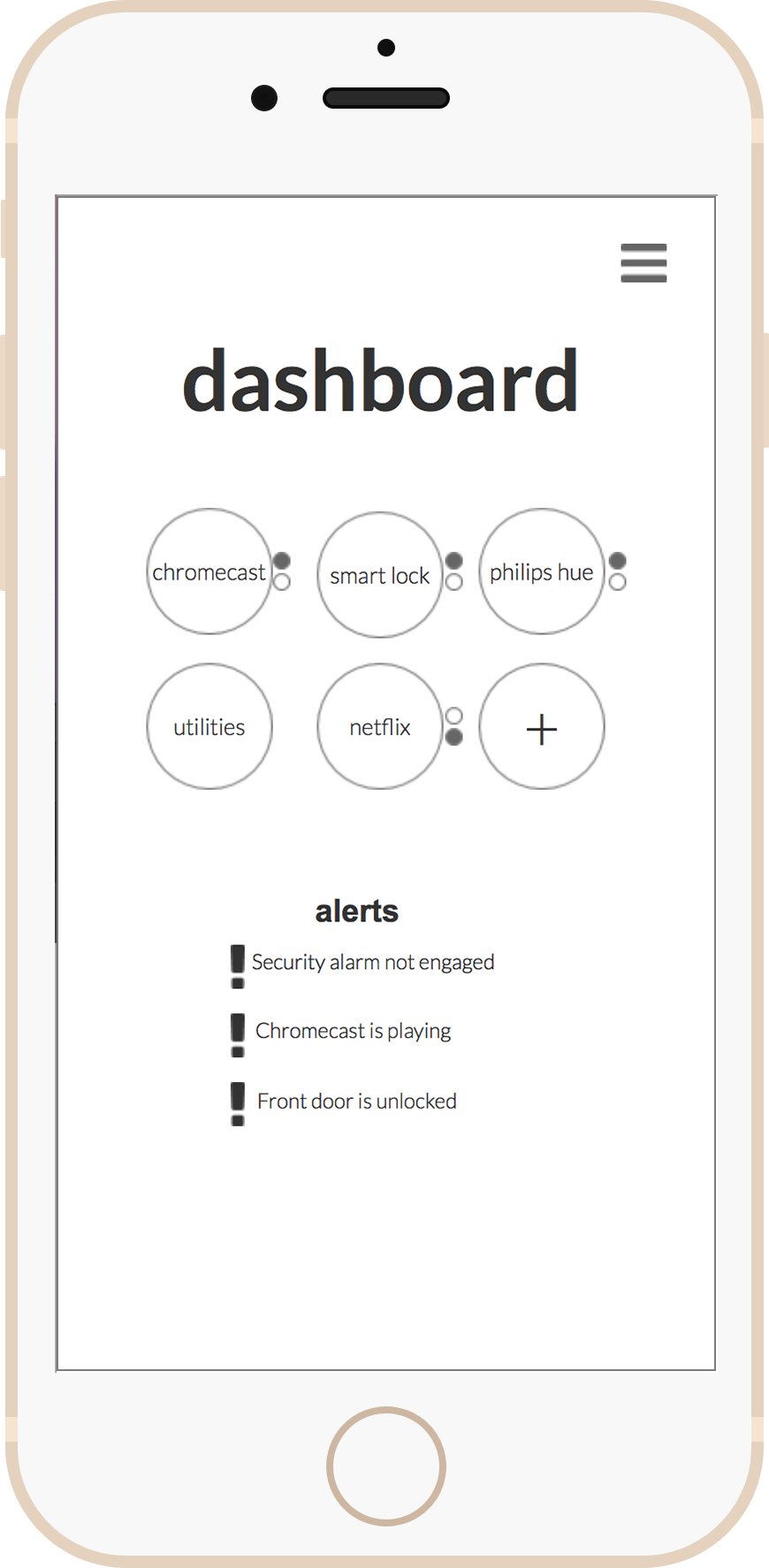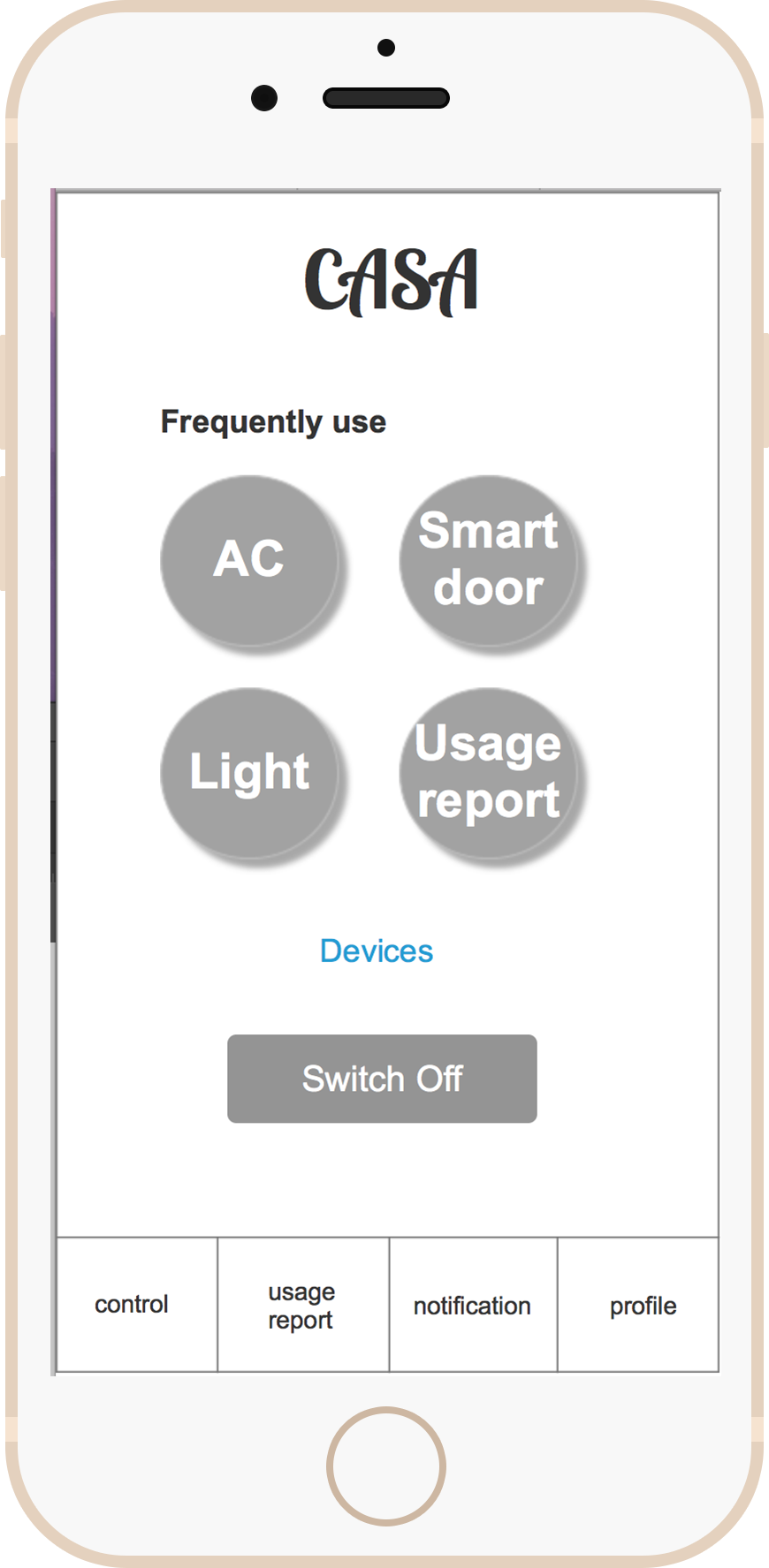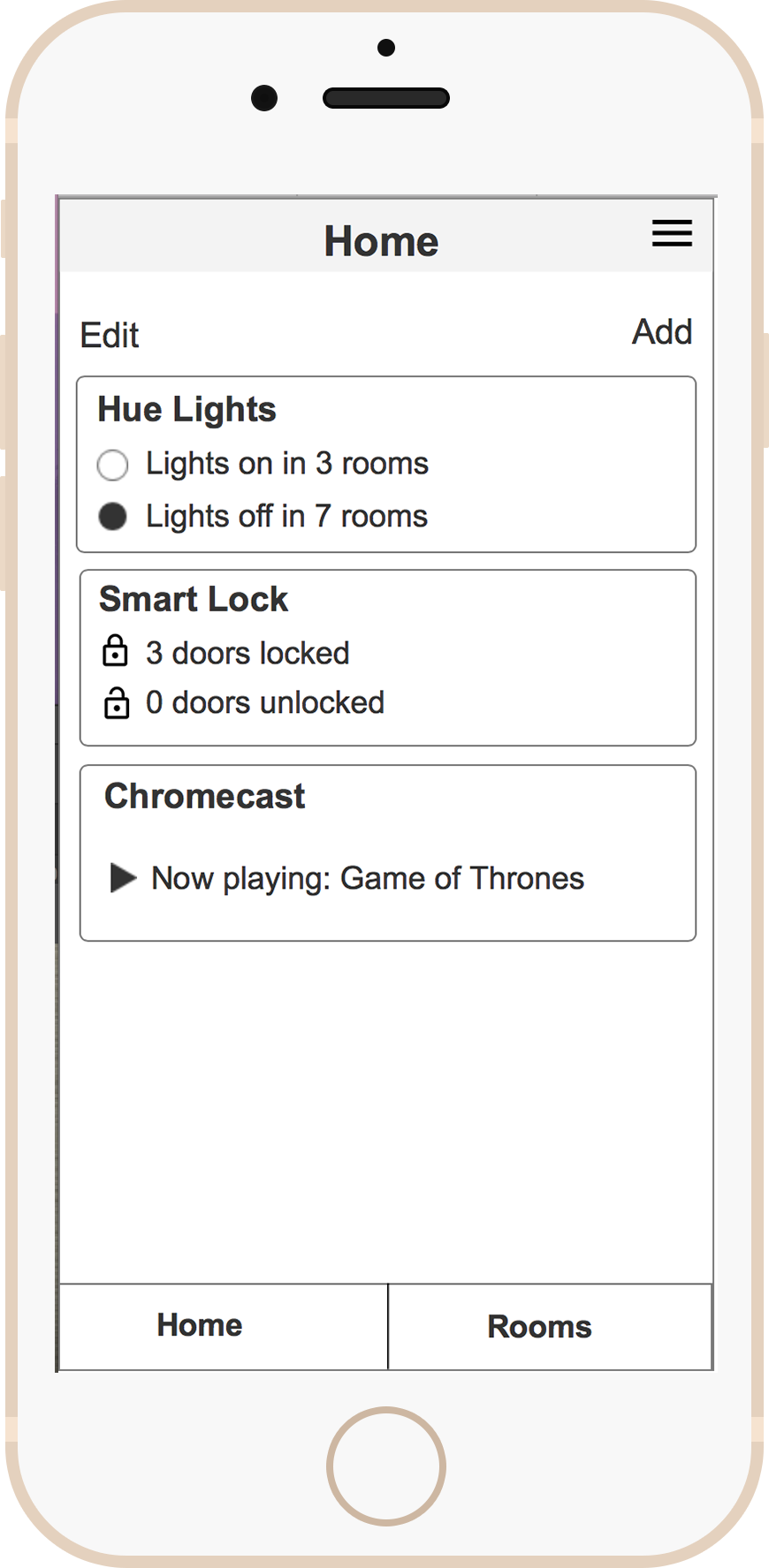 The main takeaway was that not only did people want direct access to devices on the dashboard, they wanted increased overall convenience and speed. They liked being able to control multiple devices under the individual room model. (This was tested lightly in one of our three prototypes and preferred to the two without this function.)
UI DEVELOPMENT
Our team began our visual exploration by creating mood boards, style tiles, and a visual competitive analysis of smart home device apps. I chose to focus my design on warm hues to delight the user and a Southwestern theme to align with our app name, casa (team established this name from beginning of project).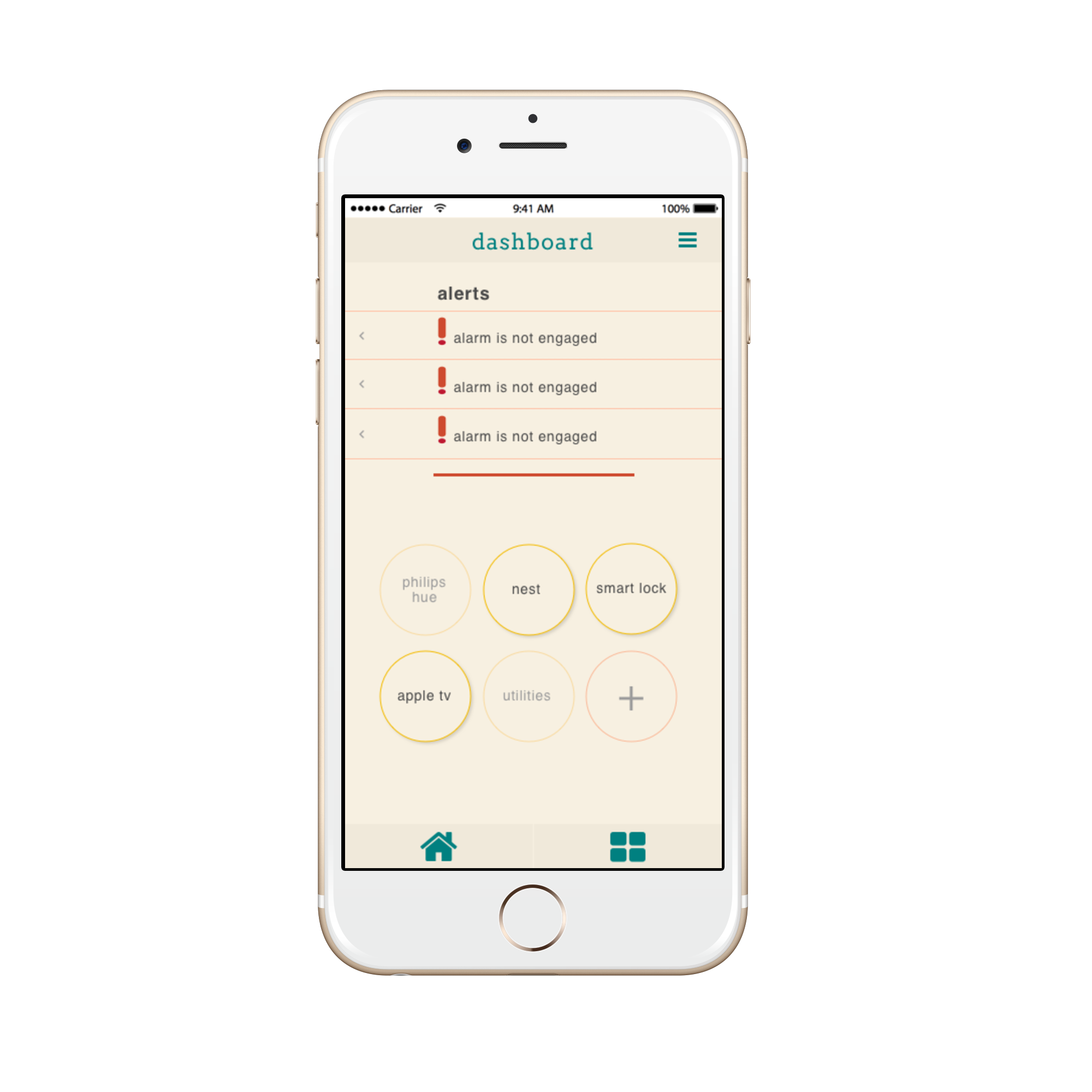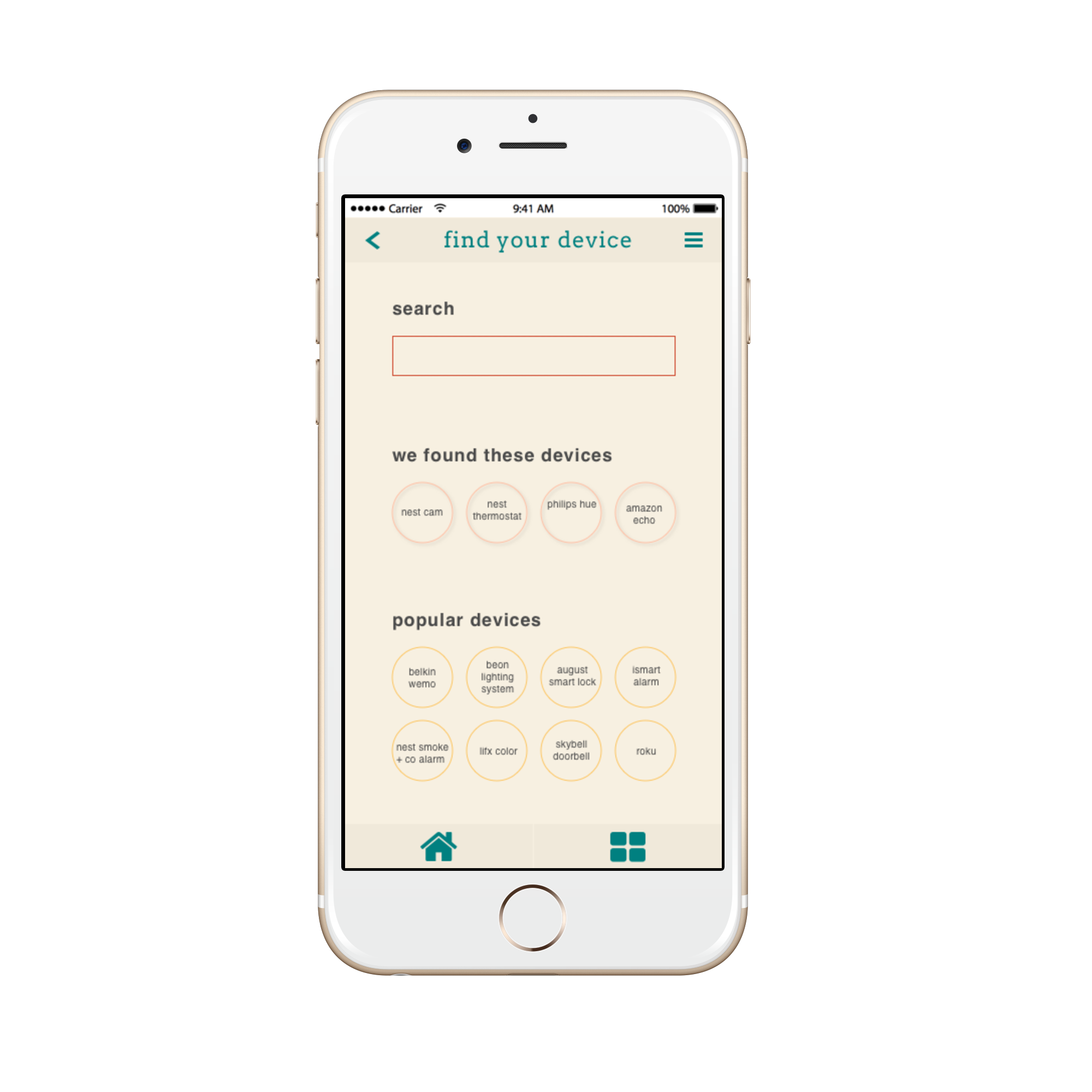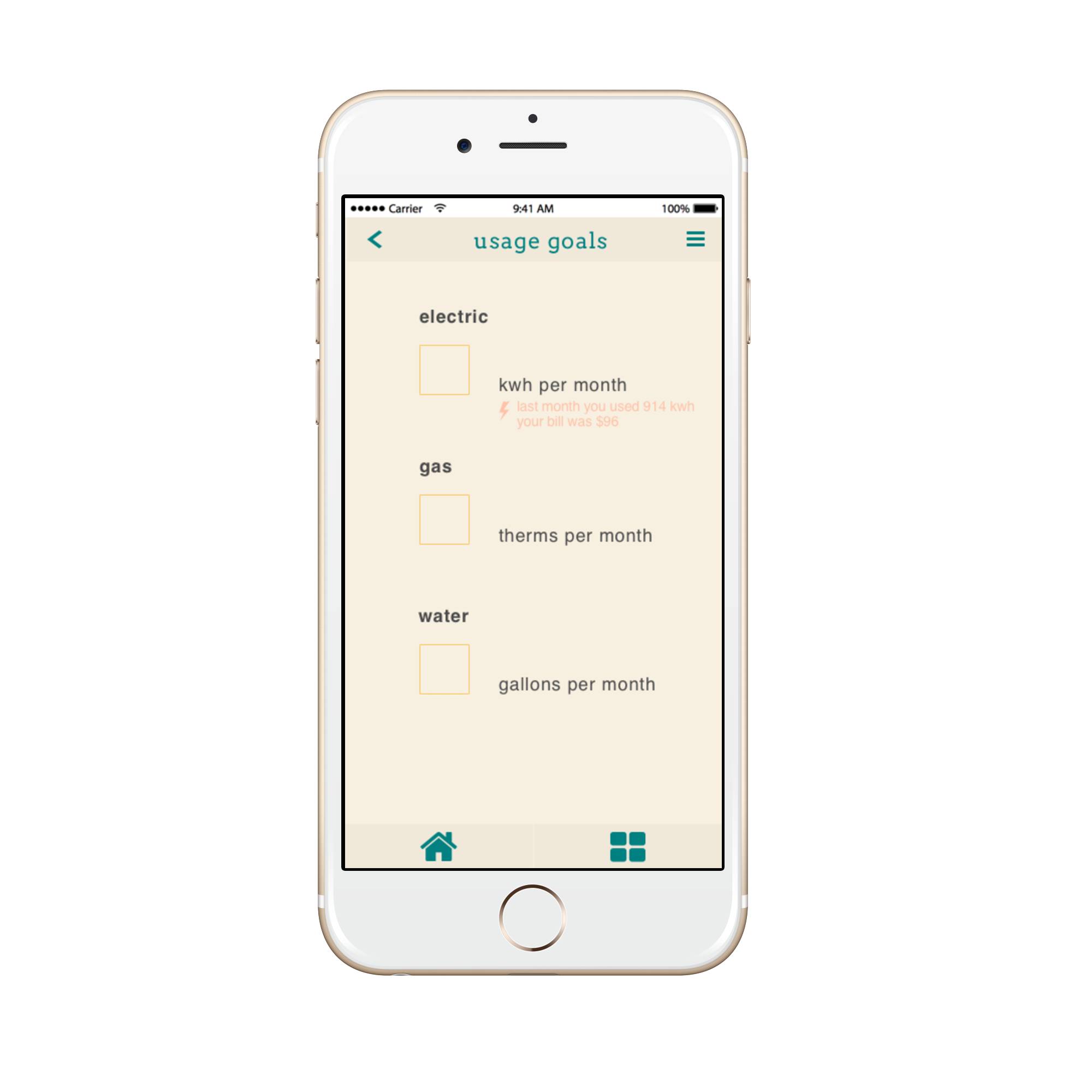 I wanted to test a style that is different from most smart home device apps so there would be no confusion that we were another smart home device app. My design also focused on function so that the user could easily navigate the app without being overwhelmed.
The other designs we tested: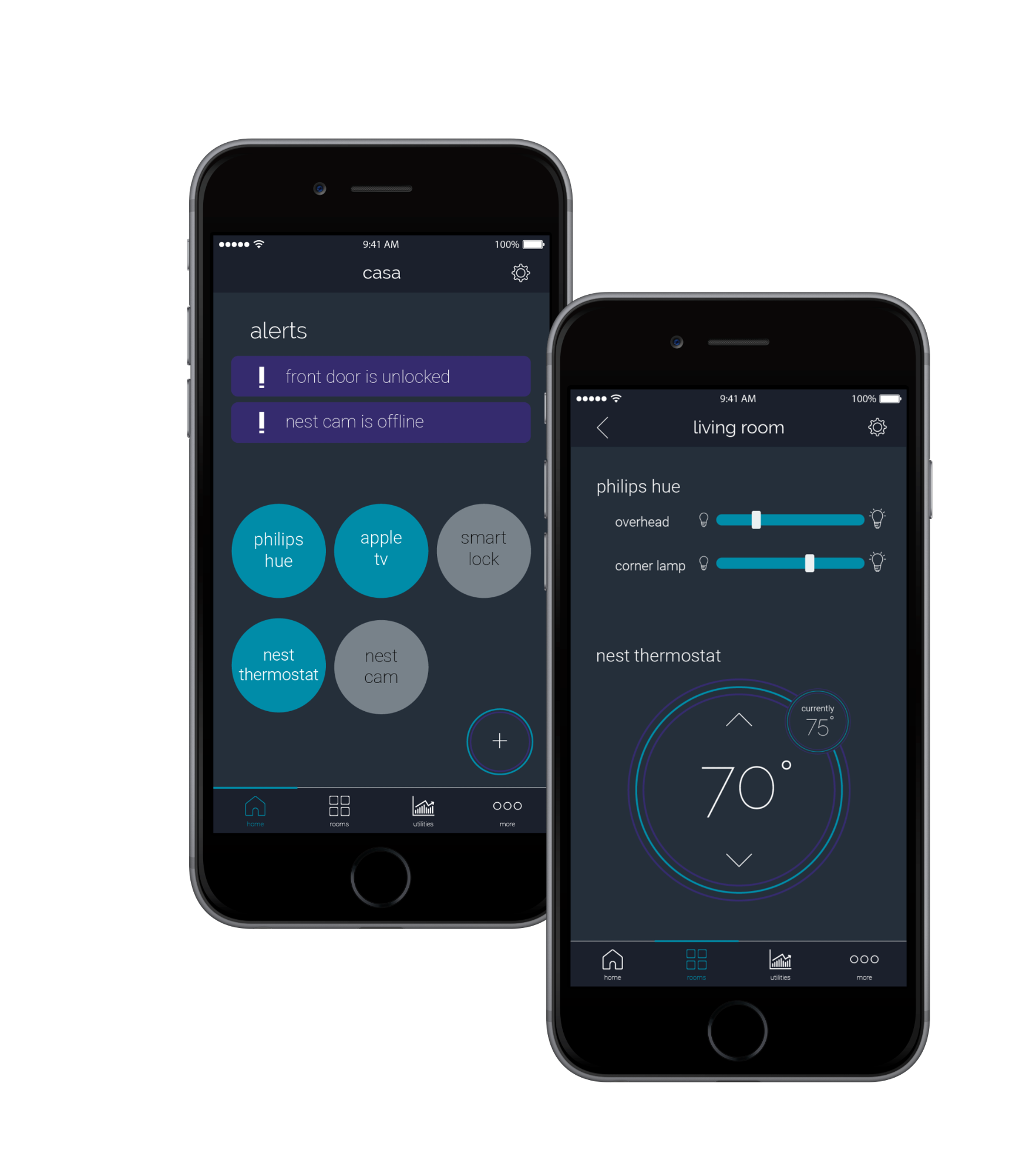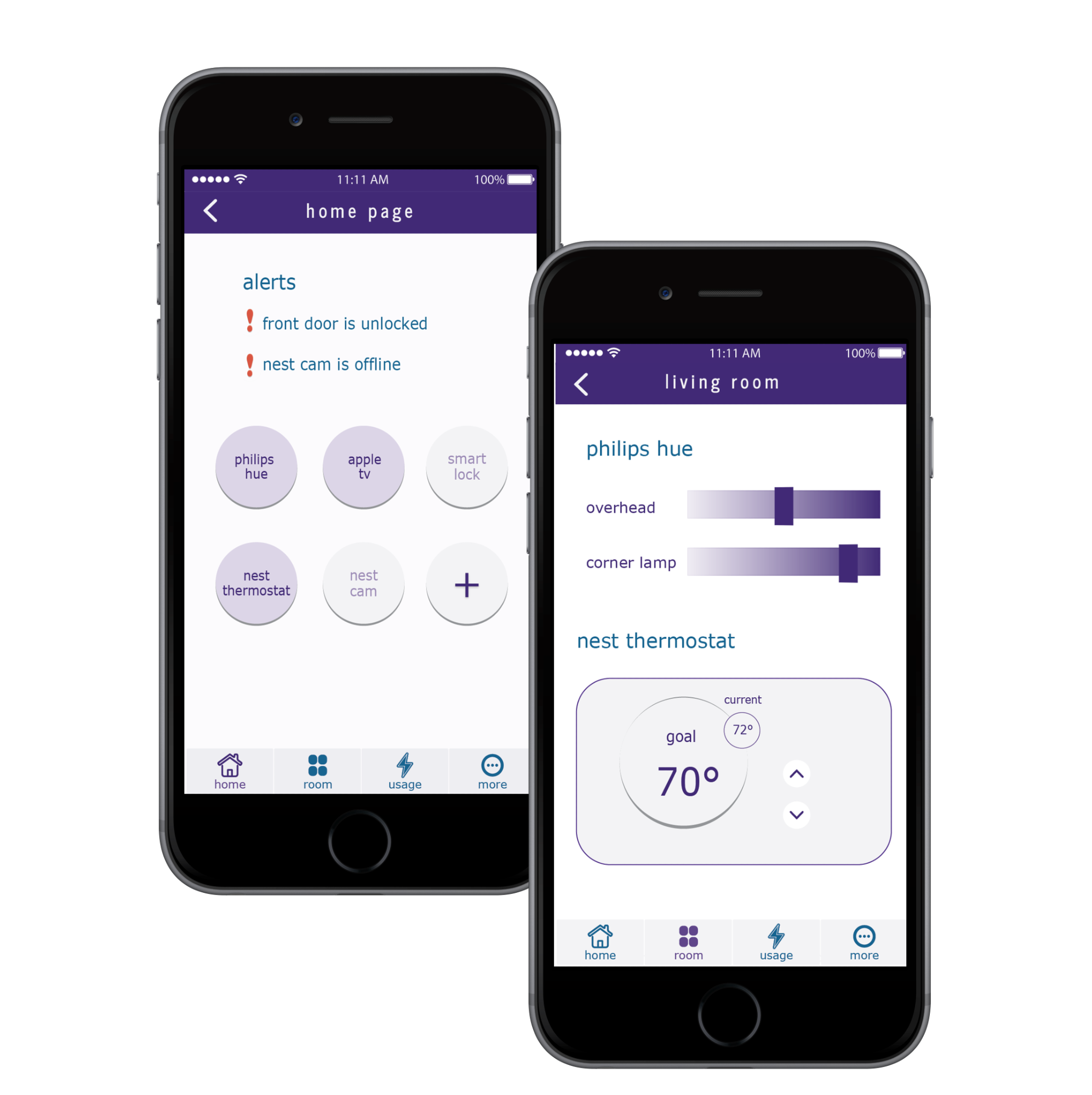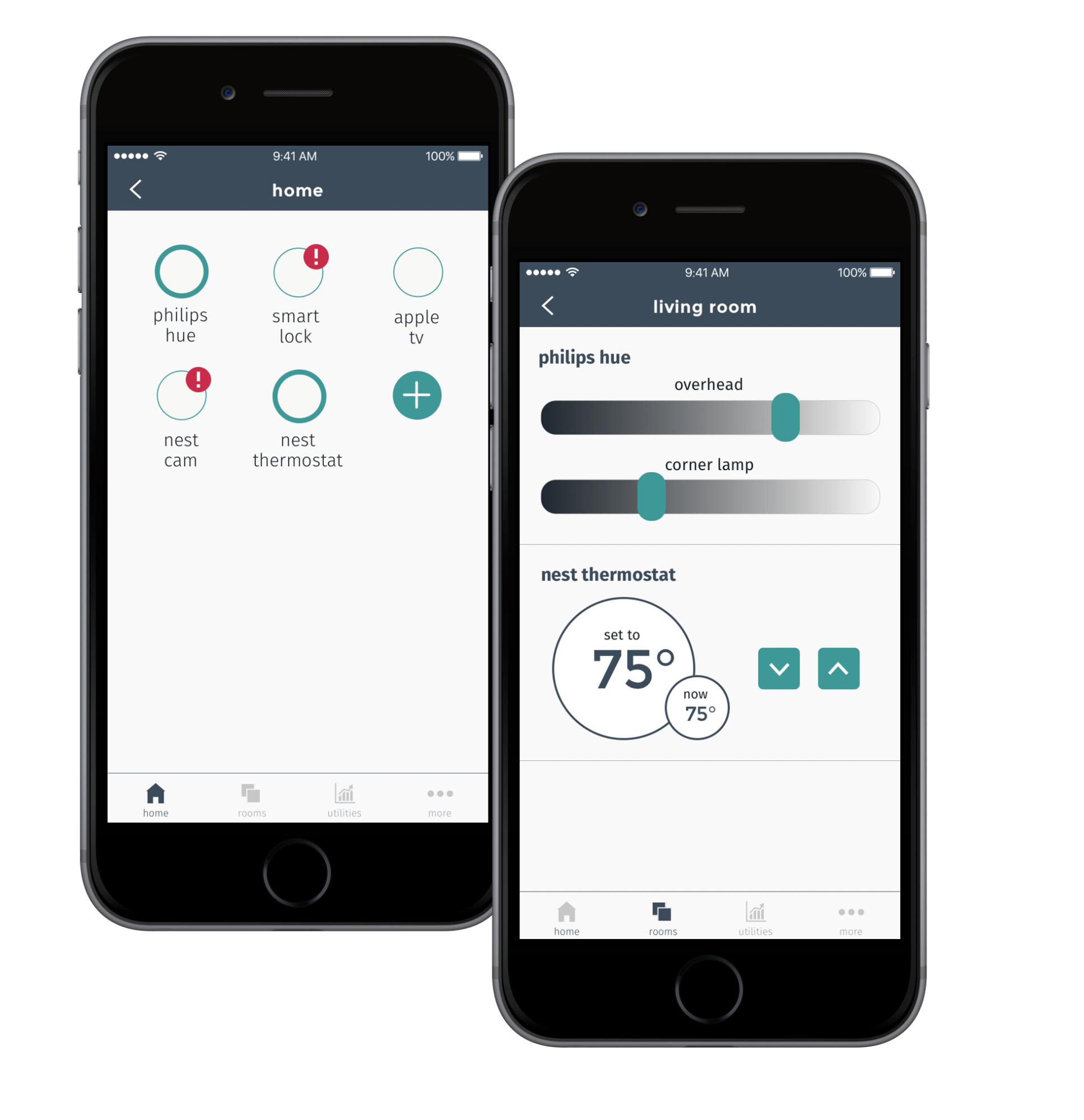 We learned that users were easily swayed by colors they favored from their personal styles. The design that received the most favorable ratings by a significant margin, also elicited the strongest negative feedback. We chose to go with the favored dark theme, but tone down the intensity of the contrast to make it more comfortable. While each design had similar function, they tackled the functions differently.
Our users wanted us to "frankenstein all of these".
We acted on this advice and combined the best UI elements from each prototype and went with the dark theme. We decided to play on "love it" and soften up the accent purple while reducing the number of colors on any given design element. We also decided on a light gray text rather than white text so it would not appear as stark against the dark background. We took the line icons of my prototype and applied it to the dark theme for a lighter dark feel.
WHAT I LEARNED
Understand the users mental model. We spent a lot of time in our initial interviews learning about our users' needs and pain points which really helped us nail our initial concepts with our testers. Even in later rounds of testing, we spent the last part of the session engaging our users in semi-structured interviews as a follow up to testing so that we could develop a further understanding of our users and their interactions with smart home devices and their home.
Be adaptable and flexible in new teams. My team for this project had no prior relationship or experience working with one another. A few issues surfaced early in our time together, many of those from unclear expectations and language barrier. I drew from my experience managing teams to bring to light our tensions and discuss a plan to work harmoniously together moving forward.
Interactions can make or break the design. We had limited time to test interactions and as a result some of our designs failed miserably during testing even though they were more functionally sound than others. If we had more time, I would have liked to test more complex interactions.
This project was completed a month before the introduction of Apple Home and we were pleased to see that many of the details we considered in our design were present in Apple's offering.