RESEARCH
In tackling a complex and unfamiliar domain, it was essential we establish core research objectives to help guide our information discovery. The following are the three main areas we needed to gain knowledge in:
Make sense of the organizational structure within JPL and the flow of interactions that define operations for orbiter missions
Because so few resources on the details of mission operations and organizational structure are available publicly, and the ones that are involve unfamiliar domain-specific jargon, we needed to speak to people at JPL to learn about internal team structures- how teams are formed and how decisions are made. Our goal here was to eventually identify specific roles to consider as our primary stakeholders and how they interact with their colleagues.
Learn about the intricacies of planning, scheduling, and sequencing involved in uplink operations
Planning, scheduling, and sequencing is an iterative and complex process. We needed to understand what goes on within the process as well as decision points and how they affect the overall process. We accomplished this through interviews and an iterative diagramming exercise, detailed below (page number).
Understand perspectives on how software has been used on past missions to aid in planning and scheduling
We know that similar software has always been used as aids for scientists and engineers on each mission. We wanted to learn about the pain points and shortcomings of legacy tooling to help us identify a problem space.
---
// Our methods
Literature Review helped guide our question generation for interviews. They were crucial in helping us understand problems faced during missions and prior attempts to solve them. We continued our literature review throughout the research process as we supplemented our interviews with them.
Semi-structured Interviews where the bulk of our findings came from. Because there is no published literature on mission personnel, inter and intra instrument team dynamics, and mission processes, this is where we learned about these topics. Each of our interview guides (link sample interview guide) were tailored individually for our 13 participants. For each participant, we began the guide creation by conducting a literature review of their scientific or technical publications so that we would not waste the limited time of our participants. We learned early on that scientists dislike redundancy so asking questions addressed in their publications would damper rapport.
Collaborative Diagramming served both as an interview method and a sensemaking activity. The diagram evolved over time as we continuously learned more about planning, scheduling, and sequencing which is an iterative process itself.
Competitive Analysis enabled us to explore mainstream industry tools in our areas of interest— project management & collaboration, version control, and visualization as a supplement to scientist planning and scheduling software that we had limited access to. The assessment of these tools will help inform our design as there are many usability lessons to be learned from these widely adopted tools. Our full 105 page report can be downloaded

here

.

---
// Our participants
It was a challenge selecting participants as NASA is a large government organization with many bureaucratic processes. As a student group, we had an advantage in recruiting because scientists and engineers are a friendly group and passionate about imparting knowledge. However, there were many times when we had to turn down interview time as to not overstep the boundaries of our sponsors. The Europa Clipper mission is currently in a sensitive phase and we were prohibited from speaking to anyone on the mission which meant we had to be very creative with the people we recruited.
All but one of our 13 interviews were conducted remotely which we identified as a challenge from the beginning. Early on, we identified contextual inquiry as an ideal method to learn about mission operations but bureaucratic constraints such as security clearance made this an impossible ask.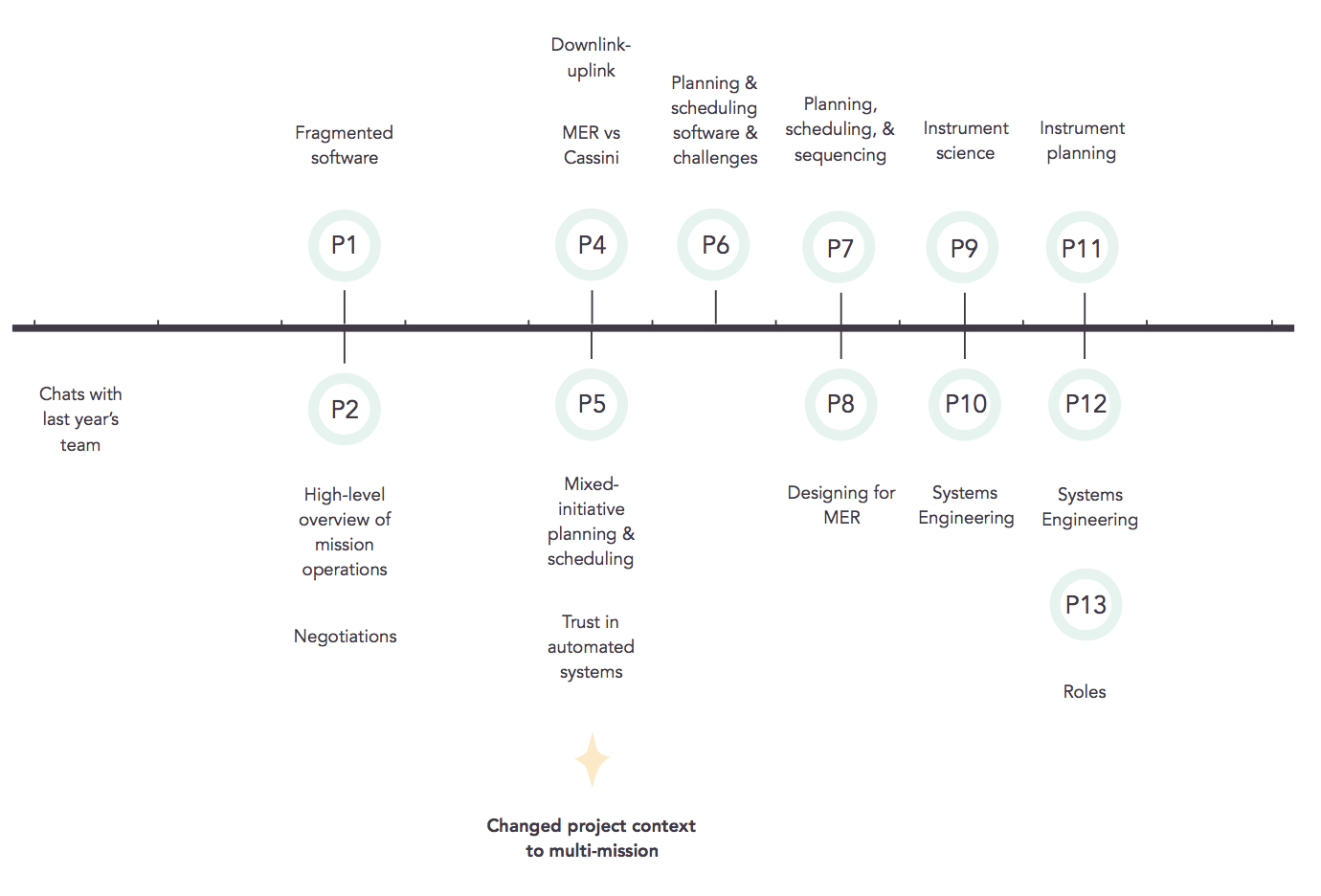 Interview timeline and participant background.
Science Planners
Science planners are heavily involved throughout pre-launch mission planning and subsequent operations. They may hold other titles, but as science planners they are responsible for ensuring instrument teams' plans stay on track with mission objectives. They, like systems engineers, also integrate plans across science teams to find conflicts but are not as involved with engineering as systems engineers.
Instrument Scientists
Instrument scientists on each instrument as well as their group leads are primarily responsible for developing detailed plans for their instrument's data collection (and their instrument's only). Instrument teams can be scattered across the country or across the world, depending on the mission, and are often solely concerned with their science and the health of their instruments.
Investigation Scientists
These roles act as a liaison between management at JPL, instrument science teams, and engineers responsible for calculating trajectories and maintaining the health of the spacecraft. They represent their instrument team's needs during negotiations and help ground scientists' desires within the reality of spacecraft constraints.
Systems Engineers
Systems engineers are active in the mission from the start, as they help design the structure of the mission and the software to be used in planning and operations. This is a fluid role that is generally responsible for coordinating among teams of scientists and engineers. Many are primarily responsible for integrating the plans of scientists and engineers, iteratively modeling them to find conflicts, and eventually sequencing commands that get uplinked to the spacecraft.
NASA Ames Researchers
Two researchers were identified as experts in automation and planning and scheduling. Both of them have spent their career researching and building prototypes for high stake mission control and temporal planning.
JPL Design Researchers
A group at JPL is in the early phases of working on a similar problem so interviewing them was essential for us to not waste overlapping efforts. We fully shared our interview notes and process with them as well.
---
// Sensemaking
Two primary activities help us manage all the information we learned from our interviews— diagramming and affinity mapping. Our affinity mapping process took over two weeks as we narrowed down from hundreds of post its on three foam boards into 36 themes and 8 insights. The diagramming activity was an iterative process throughout our research phase. As we uncovered new information from each interview, we would add it to our process flow and use it in our next interview to validate our understanding and revise any mistakes. It also helped us keep track of where we were missing information in the complex process.
Diagramming
Process flow diagramming was an essential part of our sensemaking process. Although we took meticulous notes, we were learning so much new information with each interview that it was difficult to keep track of the sequence of events and identify gaps of knowledge without mapping out what we already know.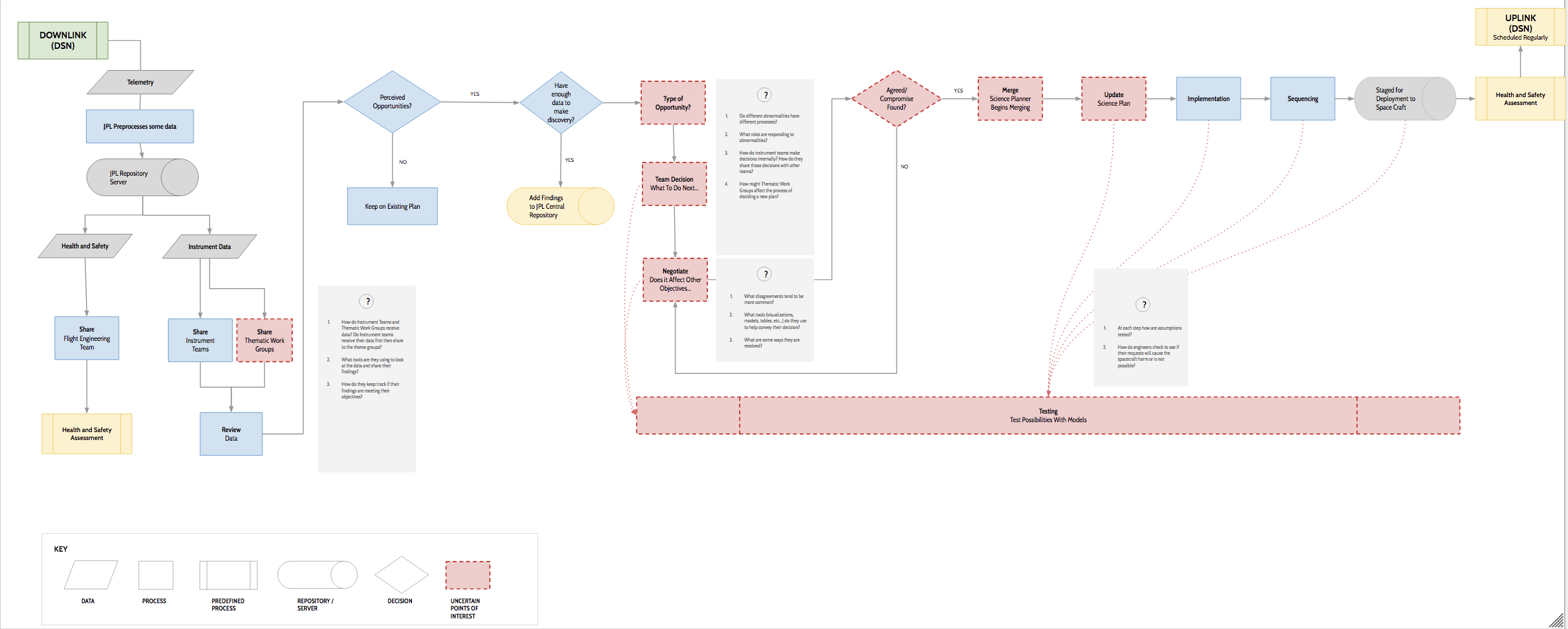 The first digital version of our process flow diagram.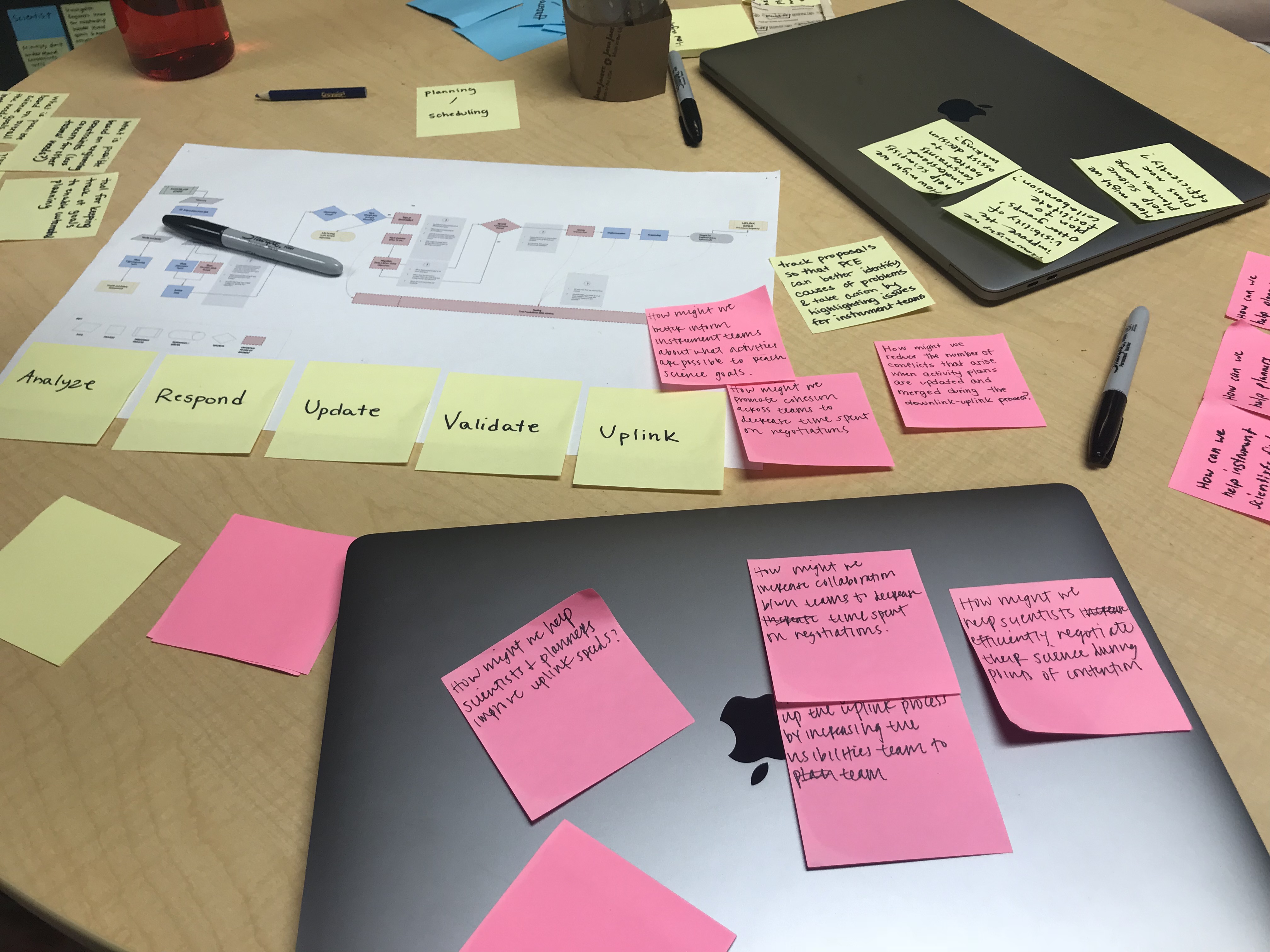 We iterated on our diagram over 8 weeks, trying to make sense of the downlink to uplink process.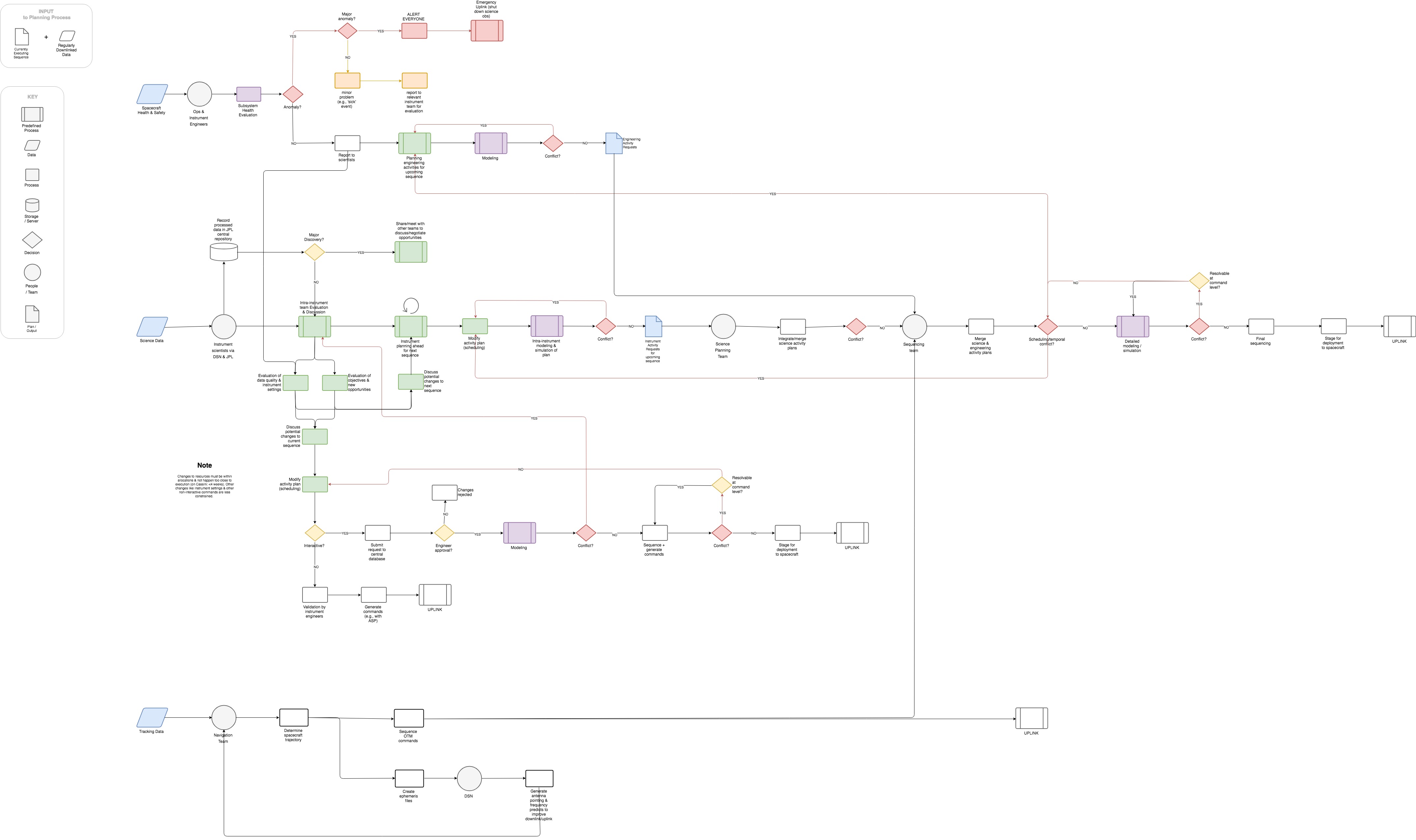 The current iteration of our diagram.. We will continue to update it as we learn more.
We also created diagrams for tour design, instrument shared opportunities, and a concept map to visualize our knowledge and confirm our learnings.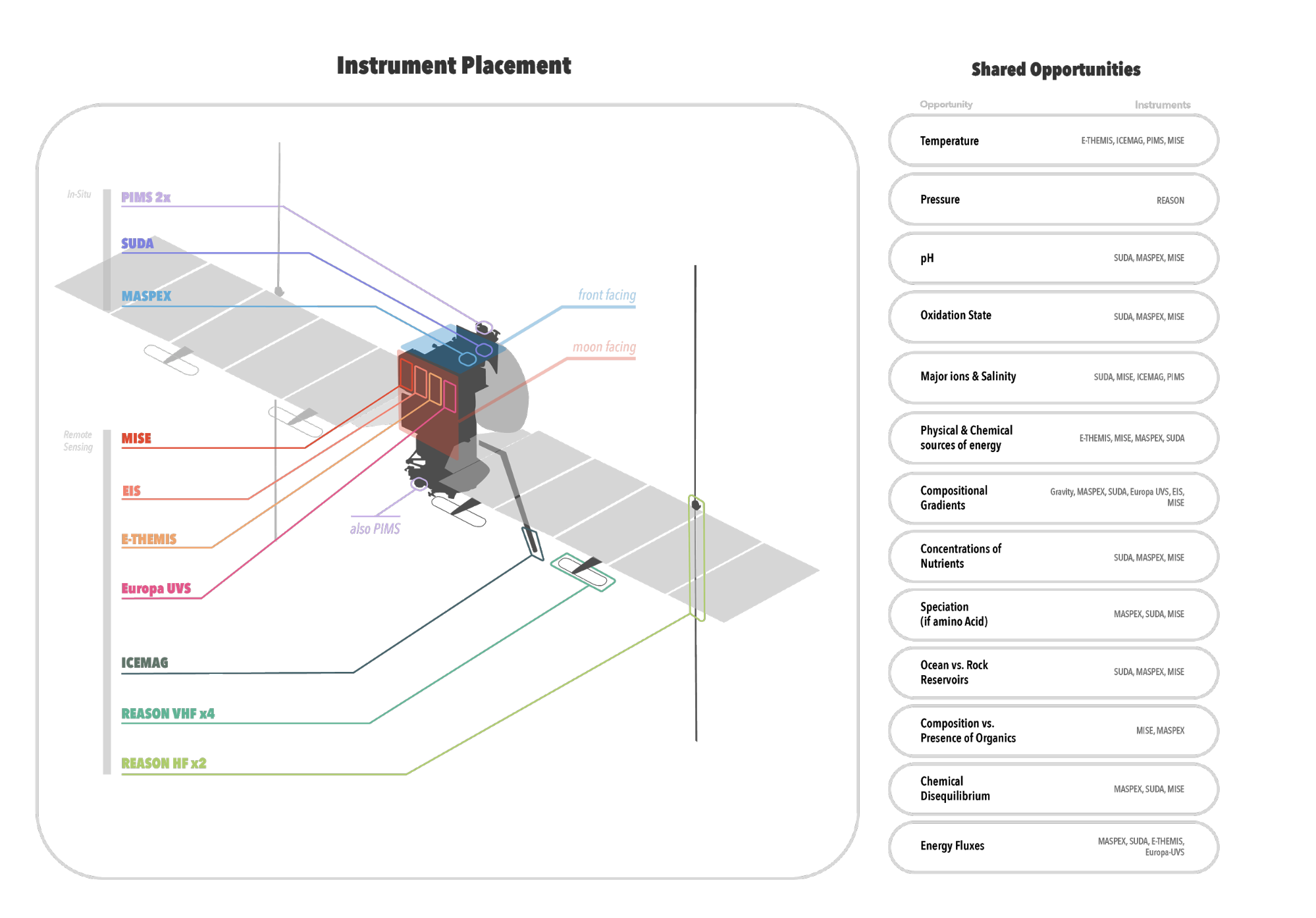 As we were trying to understand how instruments might collaborate with each other, we grouped the science opportunities with the instruments that would want to collect this data.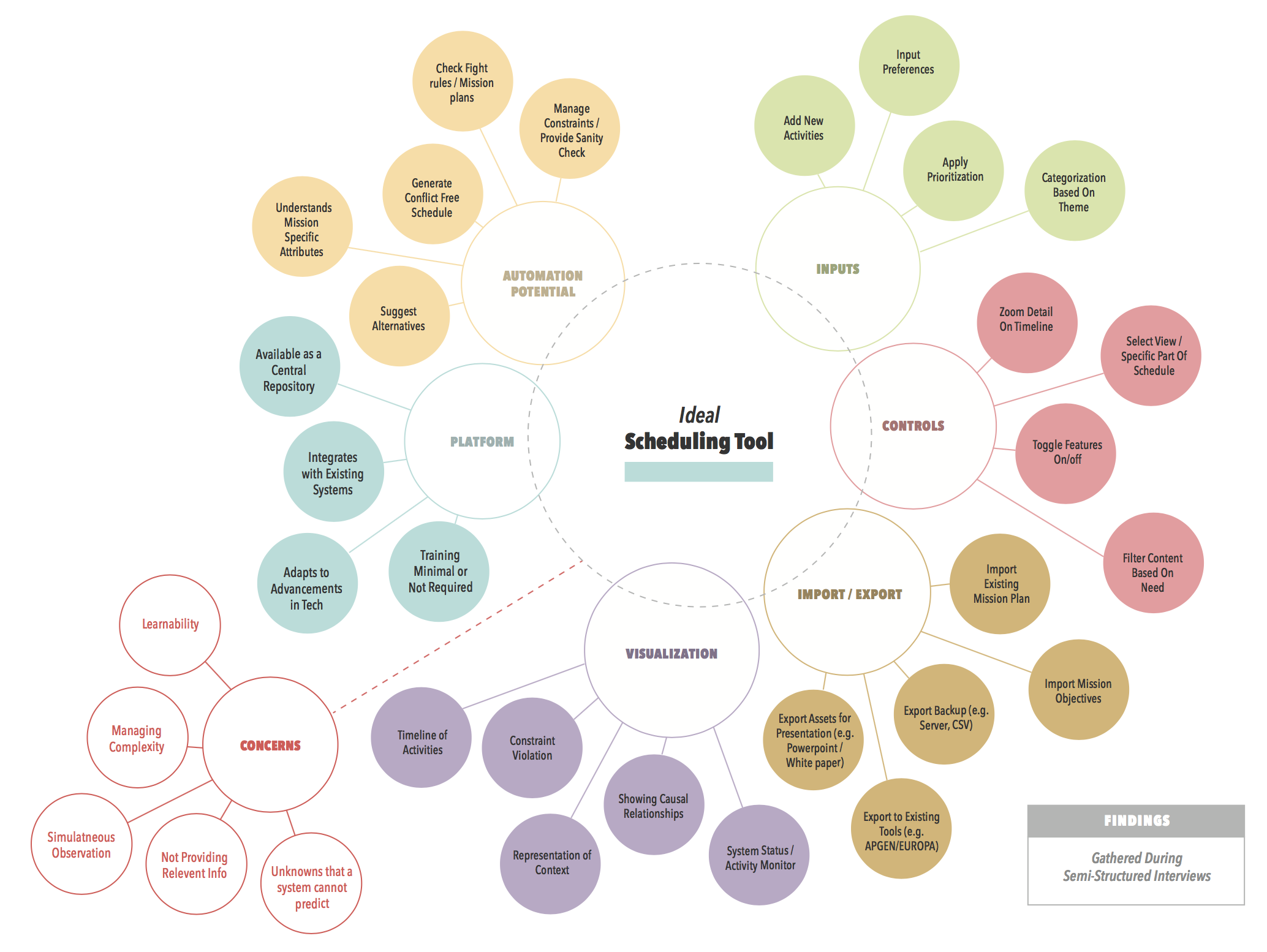 The process, needs, fears, and pain points of our participants are captured here.
Affinity Mapping
A crucial part of our process that was completed over two weeks with at least 6 different overhaul revisions. We began by mapping themes high level mission themes, then moved to organizing by mission phase, and finally multiple iterations of themes that then informed our insights.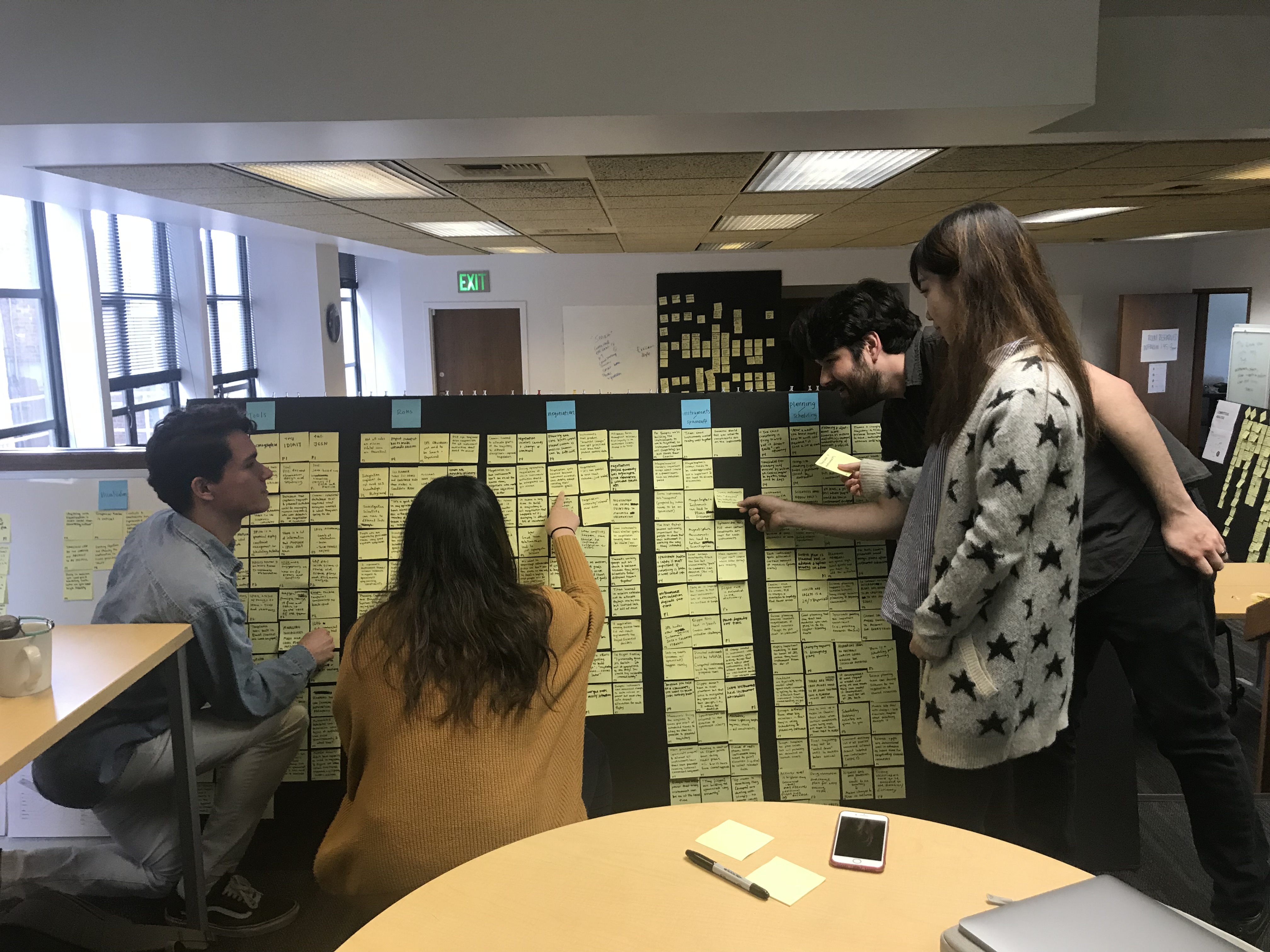 One of our early attempts at grouping themes. These themes were too broad and didn't prove to be helpful.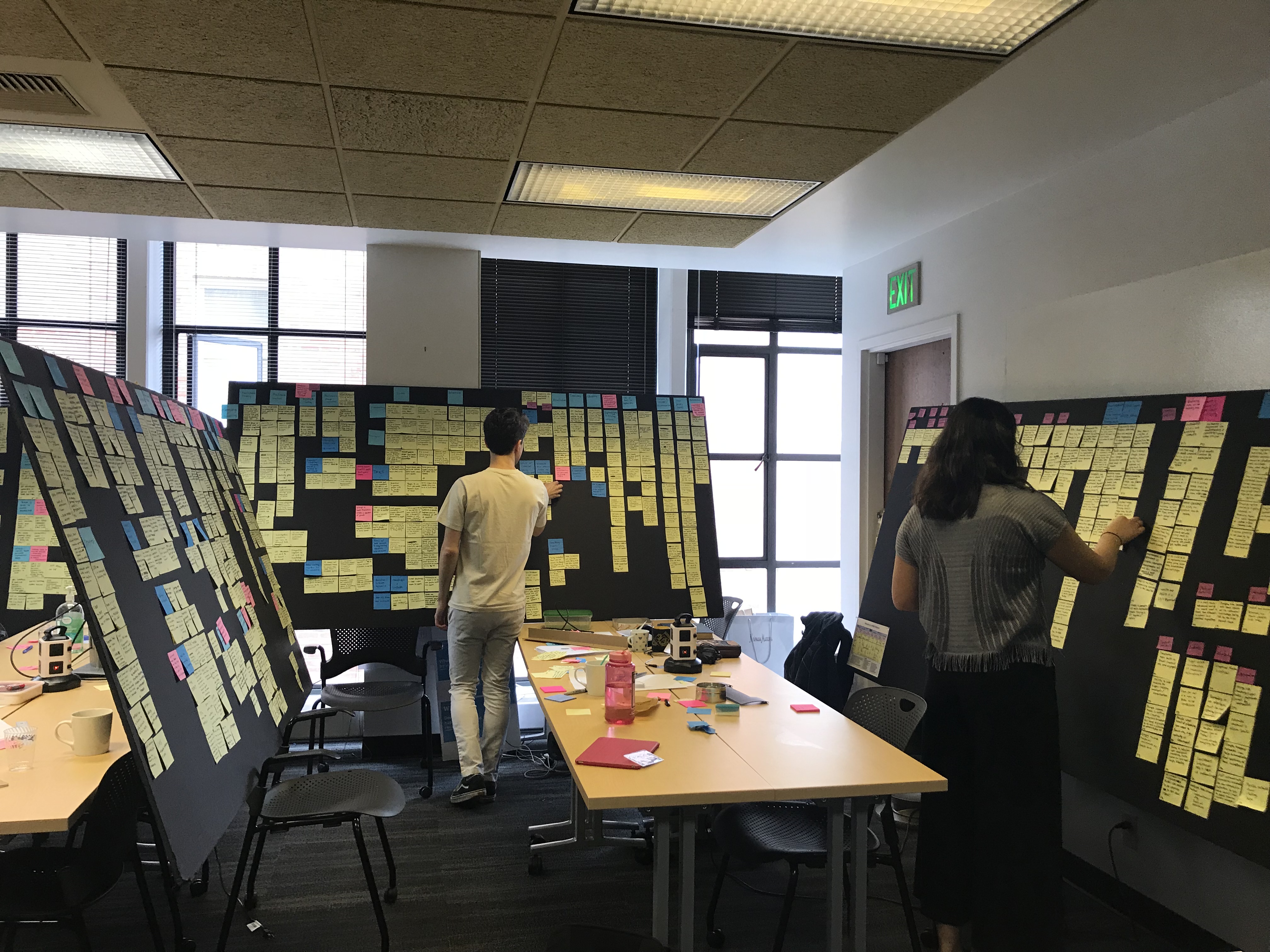 Week 2 and multiple iterations later, insights have been extracted from themes.
---
// Our insights
Missions are planned and simulated in as much detail as possible before launch to optimize the cost and efficiency of operations and reduce error, but they are also flexible enough to account for anomalies.

"You can make later updates to [the plan] but it was planned quite far out." P1 "You think something is going to work but it doesn't quite once you get there." P4

Scientists' needs are grounded in instrument constraints, thus the more complex the constraints are, the more contentious negotiations of instrument and resource usage will be.

The Saturn Working Group "had a lot more … heated discussion from what I've heard because they're the instruments that take photos of Saturn [so] they use a lot more data." P12 "We have to constrain the amount of data we record far below [what] we could record to make sure to get data back." P7

Science rules the mission, but because it can be put at risk by any problems with the spacecraft or its instruments, ensuring the health and safety of the spacecraft is paramount.

"There's a huge amount of pressure not to declare the whole mission a failure - for political… for a lot of reasons." Engineers will do everything possible to get the spacecraft functioning. P11 Scientists can "really get off into the weeds" discussing possibilities. Engineers are there "to keep sanity." P2

Mission operations are always adapting, learning from problems both in past missions and ongoing ones.

"They [Clipper team] are building the spacecraft very smartly." P2 "We're building models very early. We build models that run simulations and simulations help us discover if there might be opps or problems in our tour design. Then the model that is created will be continually updated during the mission... We'll be able to put a plan in, run it against the planning tool and see if it makes sense." P13

Fragmentation of software tools across teams poses a challenge to science collaboration and contributes significantly to conflict.

"Instrument teams are not always aware of what other instruments are planning." P6 "It was a combination of JPL not taking the right path in developing tools… they wanted to develop something for the uplink process but what we needed was a rudimentary planning tool that gave you a high level view of your planning process." P1

Cross-pollination across diverse teams facilitates healthy collaboration and cohesion across disciplines because it ensures that no team's individual needs dominate.

"It's a good thing in my opinion to have scientists who are orthogonal: member of an instrument team and a Thematic Working Group." P2 "The investigation scientists … would know what spacecraft things affect their instruments." P1

Data return is emotionally charged because careers are at stake.

"People get emotionally attached to the work, the more time you work on something the more upset you get when someone comes in and says we're going to do something different" P4 "There is the managing of the emotional and the work ebb and flow" P4

While automation is welcomed if scientists and engineers understand how and why decisions are made, it is still crucial that humans remain the arbiters in all aspects of decision-making.

"One of the reasons why the automated planning & scheduling wasn't entirely successful was because it did not have the ability to accept the kind of preference information scientists wanted." P5 "That's why it [encoding of science objectives into software] typically hasn't been done, and I'm not sure the scientists would give that up. They'd rather do it themselves." P6
---
From our insights, we established the following design principles to help guide our concept development, moving forward:
Frame individual needs within the bigger picture

Because all science must contribute to the overall mission objectives, the design should ground the user's desires within bigger-picture objectives.

Encourage collaboration & cohesion

To encourage data shared across teams and roles, the design should provide a shared platform for all stakeholders to collaborate on decisions. Facilitating communication and awareness across teams builds trust and cohesion.

Minimize cognitive load to allow users to focus on their objectives

Allow stakeholders to focus primarily on their objectives by minimizing or easing the burden of menial tasks. Minimizing cognitive load enables scientists to focus on theirs and the mission's goals.

Be adaptable to new and old

JPL personnel move from mission to mission throughout their careers, bringing legacy tooling and experiences with them to the next mission. Our design should consider what scientists and engineers are used to doing when designing something new.

Facilitate decision making by explaining causal relationships

The design should explain constraints and possible consequences of stakeholder's actions explicitly to encourage trust in a system's outcomes. Scientists and engineers are accustomed to rigorous process and testing.
Detailed research report can be found here.