Ember Beauty
A web-based beauty product subscription service focused on educating its users on how to apply makeup customized for them.
Role

Lead UX Researcher
UX Designer
Project Manager
Contributions

Semi-structured interviews
Low-mid fidelity prototypes
Concept testing
Website copy and content
Client management
Alpha to beta release
The Challenge
The client came to us with a vision to disrupt the makeup industry by providing a subscription service focused on personalized makeup education for its users. With no existing website to work off of and just a few simple hand drawn wireframes from the client, my team of three designers was challenged to build the onboarding, mentor/mentee matching flow, and appointment rescheduling process for our client's business idea.
FRAMING THE PROBLEM
The client's initial research informed us that that female makeup enthusiasts in their early 20s would be most interested in makeup mentorship and product subscription service. They wanted us to focus our energy on this segment of users to conduct initial interviews. After 14 interviews, it was clear that the client identified user segment would not be the target market. We found that makeup enthusiasts had hard formed habits and cult favorite products already. They also felt extremely confident in their makeup abilities and did not feel that they would use or benefit from mentorship or product service.
The bad news.
All 14 user interviewers felt strongly that they would not use a makeup service.
How participants feel about makeup mentorship:
Most felt "no need" and "I already know how to do my makeup"
And subscription services in general:
Users liked "to be in control and know what [they're] getting".
The interview findings that rejected our client's assumptions and redesigned the product.
Learned how to apply makeup from mother or older family member
Started makeup exploration in early teens
We proposed to the client that we would continue conducting interviews with a younger segment of users, teenagers as a few of our interviewers had offered that this "might have been something they were interested in when they were younger".
---
More research…
We interviewed 8 teenagers between the ages of 14-21 and found:
Girls were willing to pay $15/month for makeup mentorship + products.
They needed mom's permission to buy a service like this.
We interviewed 1 mom of teenager and found:
She was willing to pay $20/month of makeup mentorship + products
She felt like this would be a great service for busy moms who can't tend to their kids
We also interviewed cosmetology students and professional makeup artists to learn about the conversation that happens between during first client visits. We kept the following questions in mind when we created a questionnaire:
Where are you going?
What do you usually wear?
Do you want a dramatic look?
What colors do you not use at all?
Do you usually wear a lot of makeup?
---
Our research led up to define the core problem we wanted to solve:
Teenage girls want a way to explore new makeup styles with a trusted makeup artist because they want to learn techniques that match their developing styles.
We were guided by the following design principles:

Personalized: show me what works for me specifically
Aspirational: help me embody who I strive to be
Relatable: Let me know that you understand my needs: trust and comfort
Educational: teach me what I don't already know
Flexible: appeal to young girls and their parents
THE APPROACH
From our research we knew that the following was important to bear in mind when designing:
Length of quiz is not as important as content
"Control" is especially important when choosing a mentor and scheduling an appointment
Upfront explanation of service and price are important
Home page
When designing the home page we knew that we needed to accomplish two things:
Be clear about the company's product offering and purpose
Get users interested to start taking the makeup quiz
We created three separate home page prototypes aimed at addressing the above two goals. In prototype 1, we rewrote the short description of Ember Beauty's service and provided pricing information up front. A "take quiz" call to action was right below the description to prompt users to take the quiz to get started. In prototype 2, we took the client's own description of its service and started the first question of the quiz on the home page. In prototype 3, we provided no up front information but had a discovery nav bar for users to find their own product information.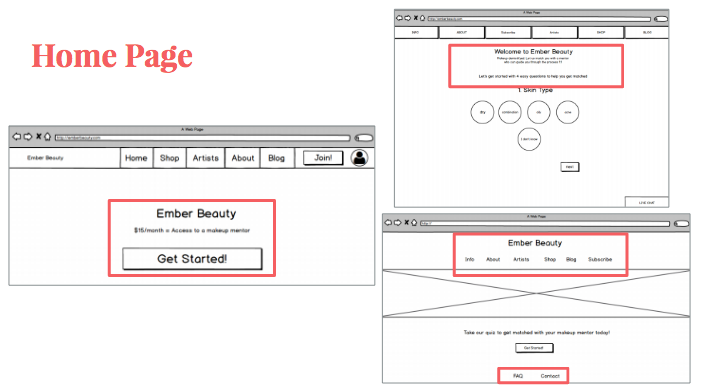 We learned:
Users liked being able to click into the quiz rather than start with the quiz on the home page
Upfront pricing is important
A clearer product and benefit description is needed
Discovery nav bar is preferred
Quiz
As mentioned earlier, we learned from our research that the length of quiz is not as important as its content. With this in mind, I moved forward with a short quiz format, asking only the absolutely necessary information a makeup artist would typically need to know before getting started with a client.
Questions asked:
Skin type
Eye color
Skin color
Interested makeup styles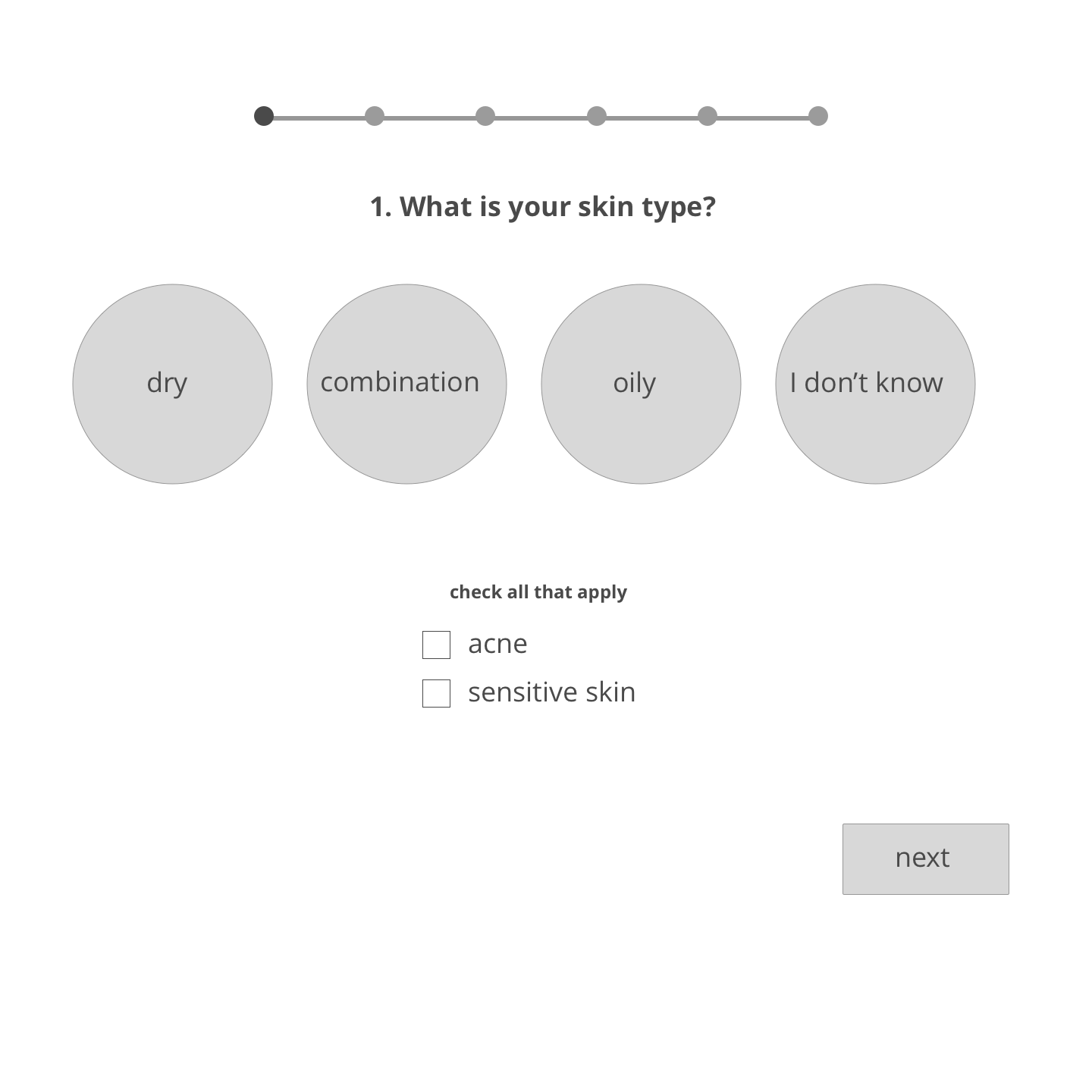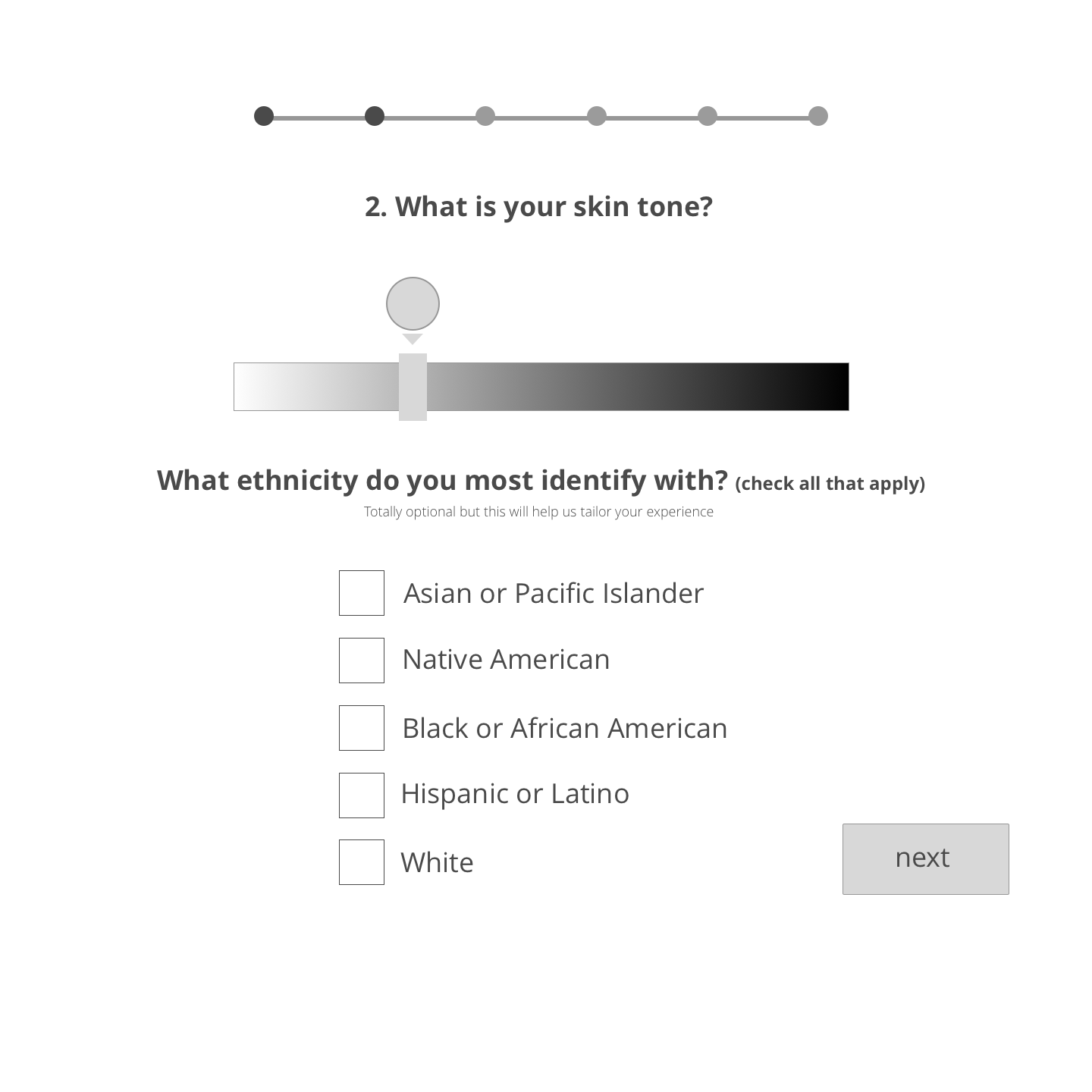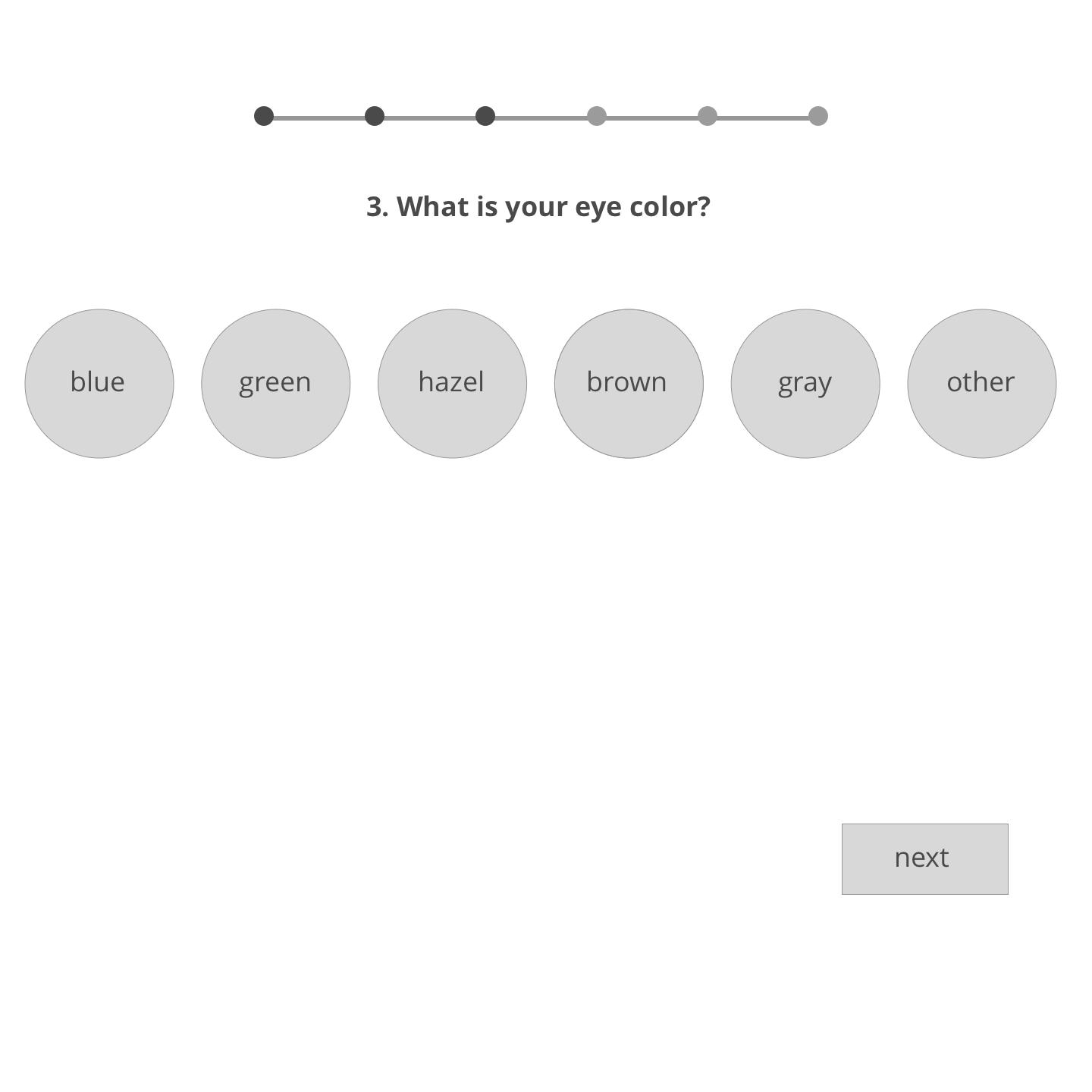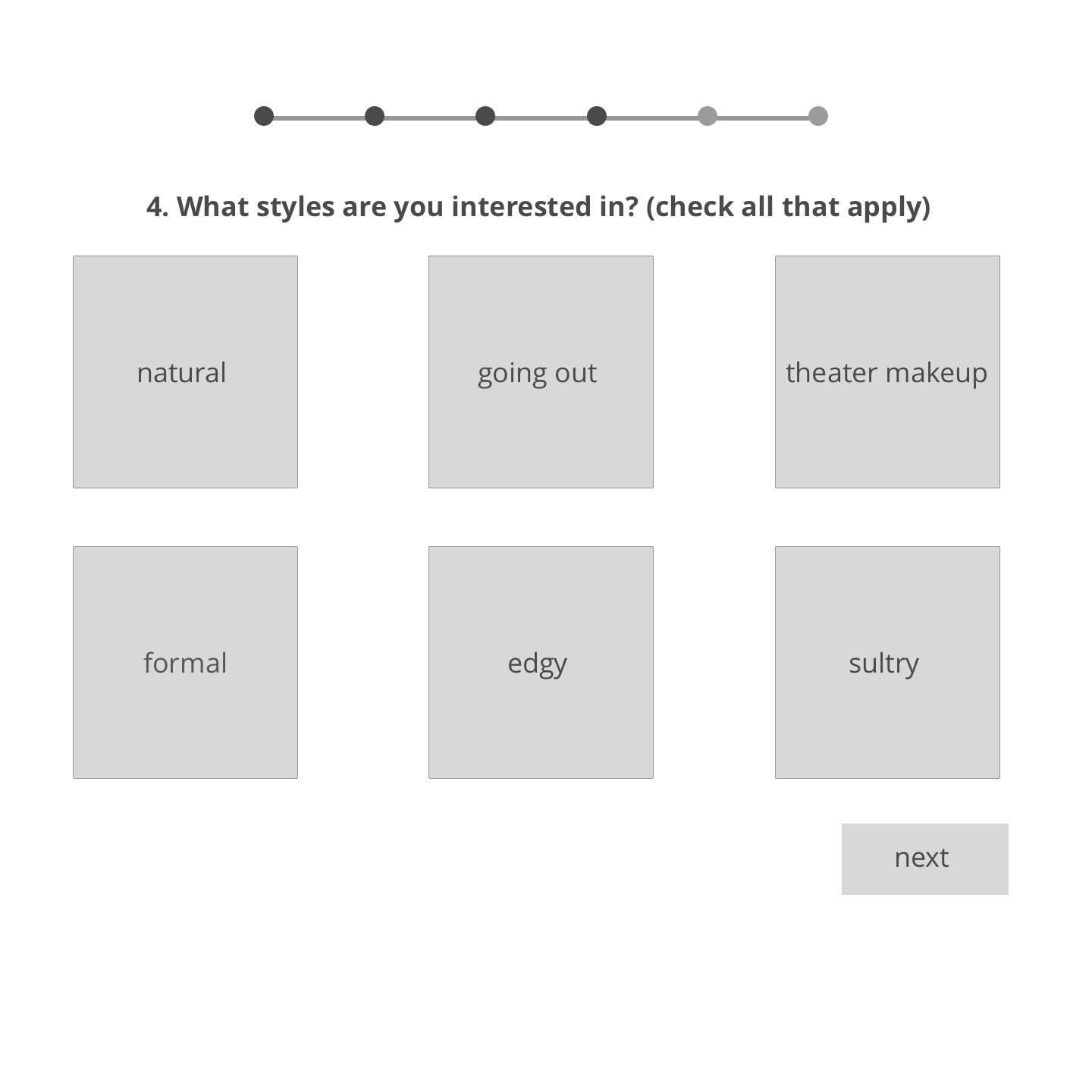 My teammates created two other quiz formats that included: 1) 4 question quiz with emphasis on questions regarding comfortability with makeup 2) longer form 9 question quiz with multiple selections.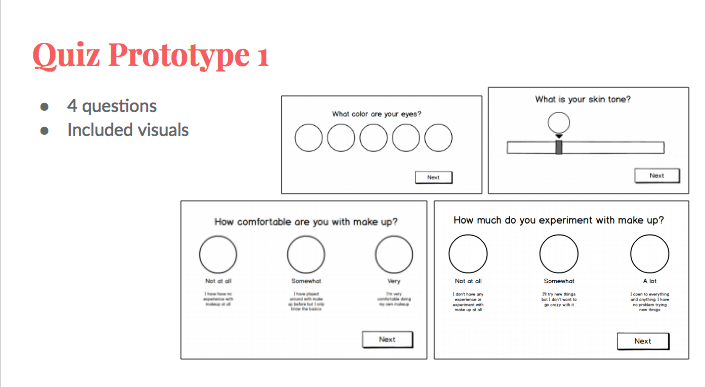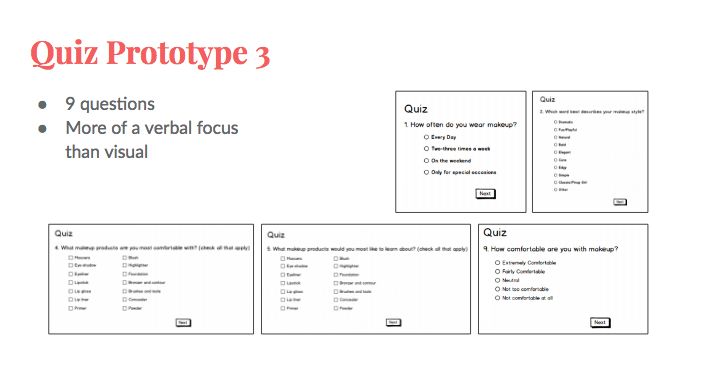 We learned:
Testers like breezing through a quiz that will provide their prospective mentor information about them
Have both skin tone slider and ethnicity selector for skin color because the meaning of one tone to another can vary a lot between ethnicities
Keep questions, "How often do you wear makeup?" and skin type
Rethink some of the answer choices that users can select
Choosing a mentor
The goal of the quiz is to help generate a list of makeup mentors that match most closely with the answers the user provided. In my prototype, I presented the user with three makeup artist to choose from, along with a profile for each artist and their availabilities. Other prototypes provided the user with one option each and different ways to view mentor availability and profiles. My prototype was very well received during testing and we moved forward with a second iteration of it for our final solution.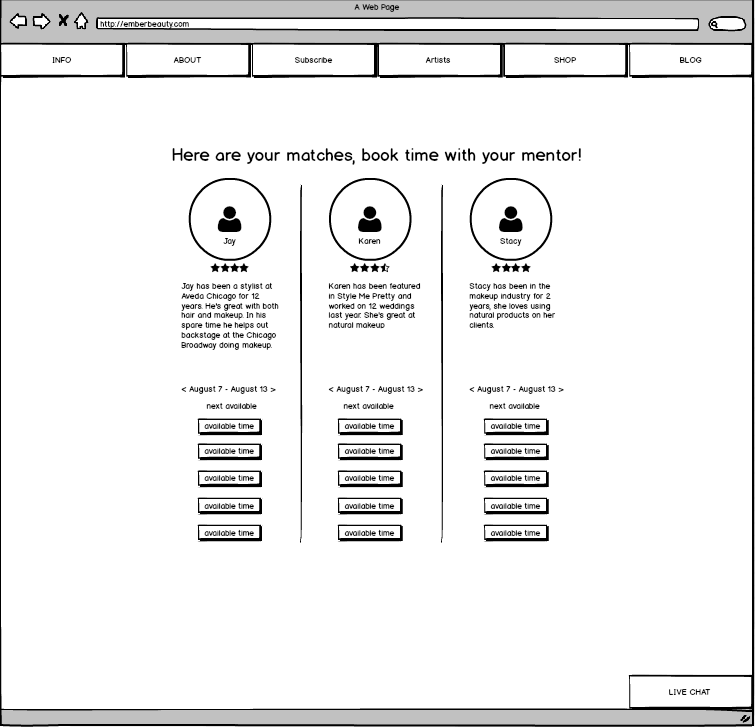 ↓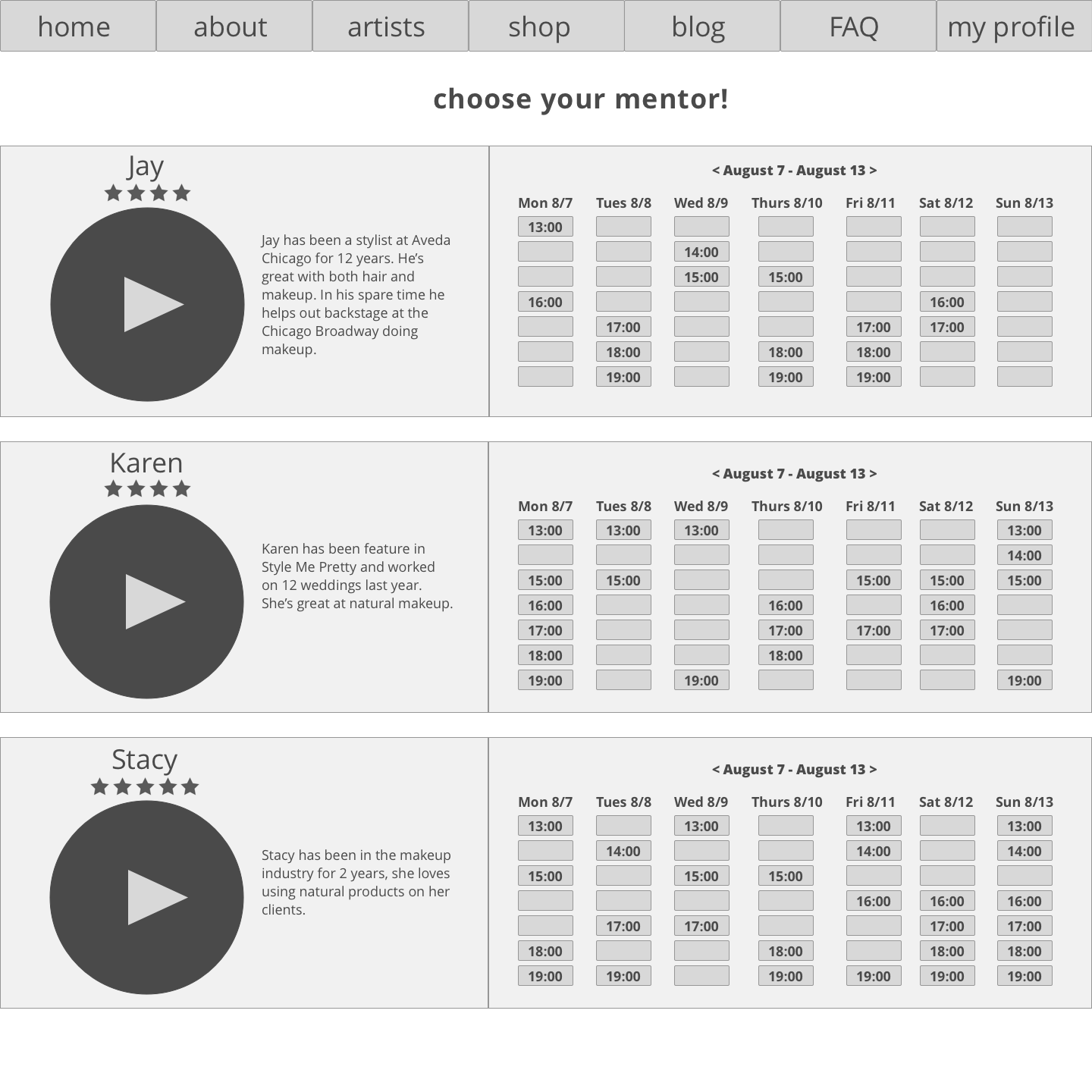 We learned:
Users want to view ratings, profiles, and availabilities before choosing a mentor
Matching schedules is more important than matching with a specific mentor
Pictures and copy are very important for an information dense page like this one
WHAT I LEARNED
Copy and content are important when designing. We didn't have a lot to work off of when building our solution because the client is an early stage start up. This meant we really had to draw upon our research to craft easy-to-understand messages for the user moving through our website. Whenever our copy wasn't direct and clear, it did not test well despite being well designed. I drew from my experience in crafting marketing campaigns and sales emails to provide my team with website copy.
Go wherever research leads me. Early in our research process we received a lot of negative feedback about the product's viability. Everything pointed to telling our client that their business idea could not pan out because there simply was a not a need for makeup mentorship services. Later on we discovered our sweet spot by carefully mapping out the feedback we received and finding that our persona would shift from a makeup enthusiast to a young teenager.
The importance of rapport building and making my interviewee or tester feel comfortable in my presence. Rapport building comes naturally to me both as a personality trait as well as a practiced skill through my background in software sales. I could tell that it proved to be a valuable skill when working on previous projects but it was especially apparent when working with Ember Beauty. Because makeup is very personal experience for most people, when I was able to better connect with the interviewer or tester, more interesting qualitative details were revealed through conversation.
NEXT STEPS
Given our limited time to research, built, test, and build a multi page, full featured website like this one, we had a few things we wanted to build and test that we didn't have time to do. We made the following recommendations to Ember Beauty:
Build and test a pause subscription button, this was something that was highly requested during prototype testing
Build out a message mentor system
Address undertones in makeup quiz for skin color
Build out additional home page details such as testimonials, reviews, and additional information about Ember Beauty
The lead website developer also came along to the final meeting which meant we were able to more effectively communicate our recommendations as he is building the website. Ember Beauty's site is due to launch in early 2017 based off of our prototype.