FRAMING THE PROBLEM
We were tasked to design an apartment tour booking system that allows prospective renters schedule tours with buildings they want at times that work best for them. With a short project timeline, the client pushed for us to focus our time on the leasing agent calendar interface only. However, after a few initial conversations with leasing agents, we knew we could not ignore the renter experience completely. We moved quickly to round up a group of renters to learn about their expectations during the renting process.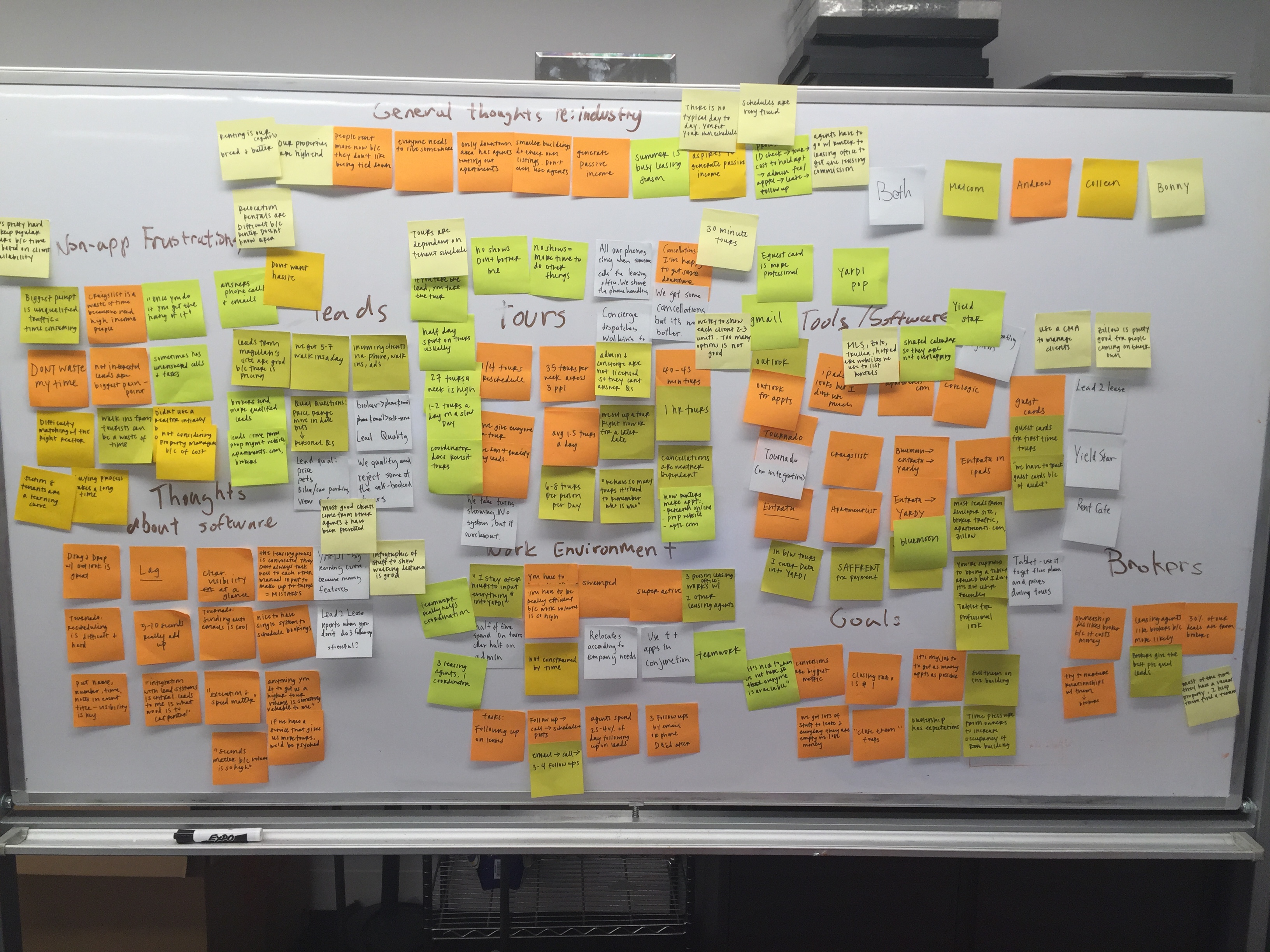 Affinity mapping helped us quickly recognize we could not discount the agent side.
After interviewing both renters and leasing agents from various properties across the city, we found that the client's request to build a direct tour booking system would not work. While the renters jumped at this idea, leasing agents would never implement this type of system because they want control over their schedule.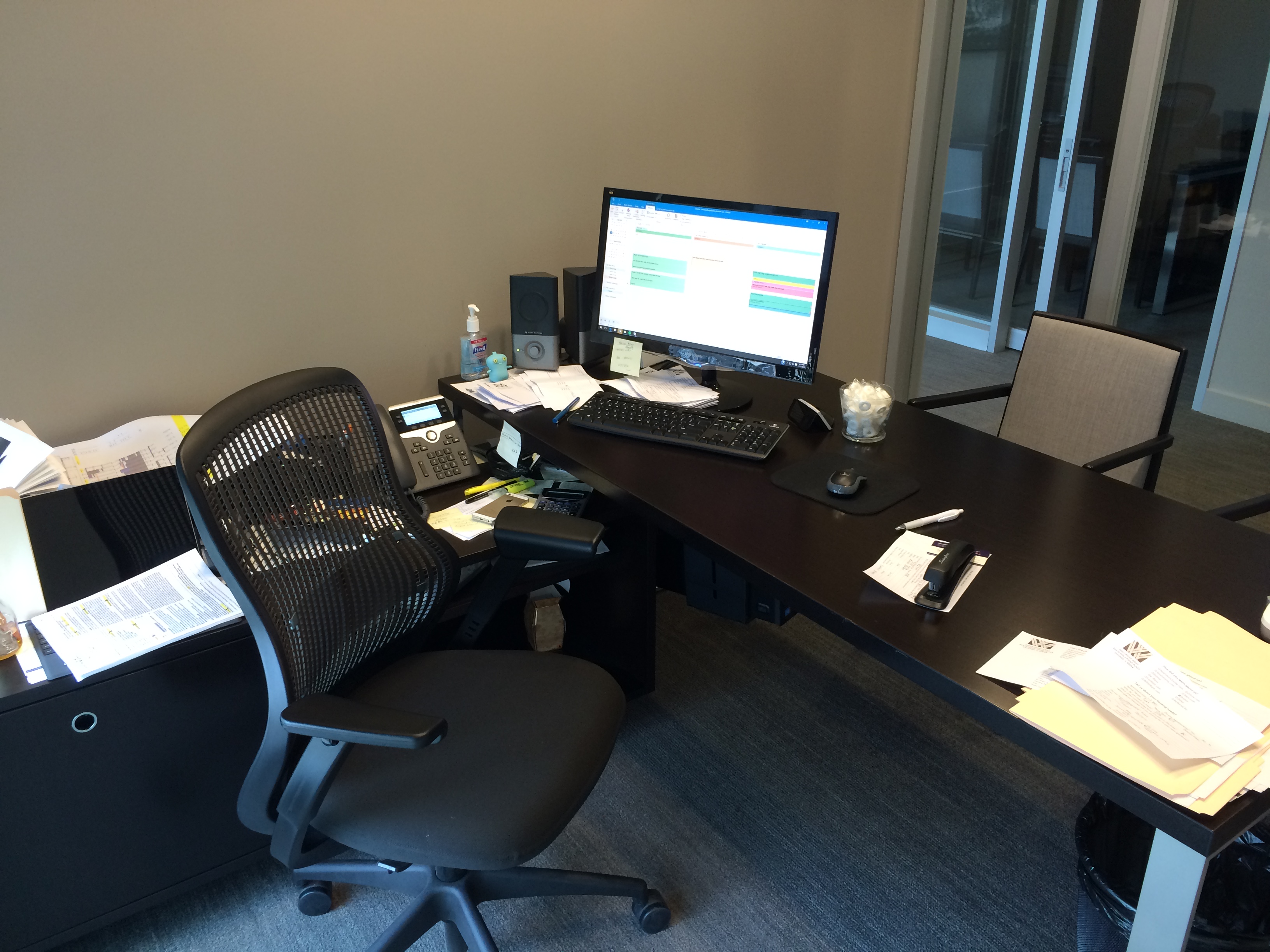 The office of a leasing agent we interviewed. Paper forms, filling system, Outlook calendar, tablet, and phone are all used in one renter/agent interaction
Why wouldn't the client's idea work?
Both parties want control over their schedules.
Renters want scheduling freedom when booking tours. They prefer to "shop around" for a new apartment on their own schedule or check for tour availability on whim during a weekend walk in the city. Being able to manage several apartment tours efficiently is especially important for out of towners who have limited time to lock down a unit in their new city.
"We were in town for one day to view apartments and it was difficult to align viewings"
Leasing agents want control over who gets a tour. Leasing agents would prefer to put all prospective renters through a strict filtering process before offering them a tour. Because most apartment tours take a minimum of 45 minutes, offering tours to unqualified renters would wreak havoc on their tight schedule and decrease lead to rent conversion rates. Additionally, most leasing offices operate with a slim team of 2 leasing agents and 1 leasing assistant so schedules are frequently in flux, keeping another program up to date with their availability would prove to be impossible. At the end of the day, leasing agents are salespeople who want to provide the best possible leasing experience to the right group of prospective renters.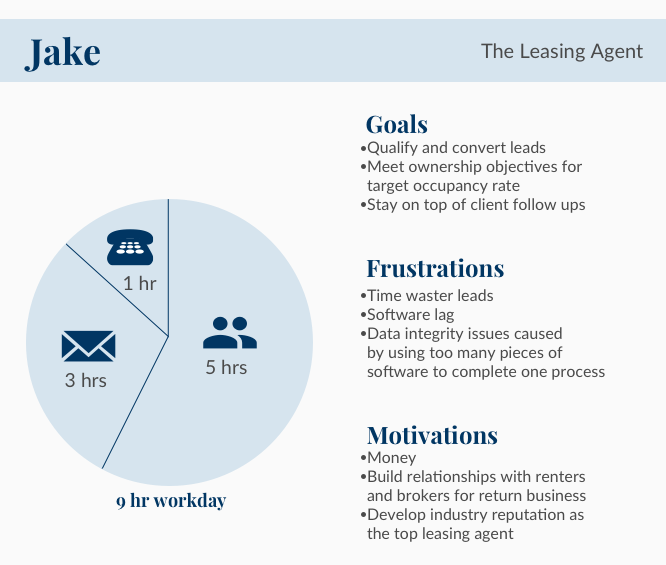 The problem
The leasing agent wants higher quality pre-qualified leads that don't come at a cost so that he can focus his time on providing the right leads the right experience.
Guiding principles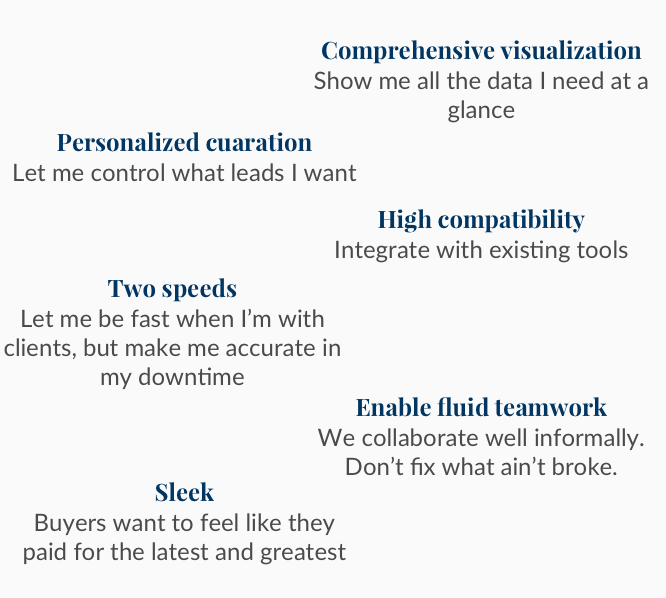 THE APPROACH
3 challenges to tackle:
Provide quality leads for leasing agents without flooding renters with too many questions
Renters want direct booking access but leasing agents definitely don't want any unmonitored booking in their calendars
Help both parties save time on schedule coordination
Quality leads vs too many questions
We curated a list of questions to ask renters that also acts as a lead qualifier for leasing agents. Renters move through a three stage questionnaire that allows them to be matched with apartments that meet their requirements. This information is then passed onto leasing offices in an easy-to-read email form with the information agents would typically ask in an initial qualifying phone call. In our research, we found that apartment search websites with long questionnaires had really high abandon rates. To combat this, we separated our questionnaire into three stages by asking only the leasing agent required information first before expanding into more detail on things like amenities.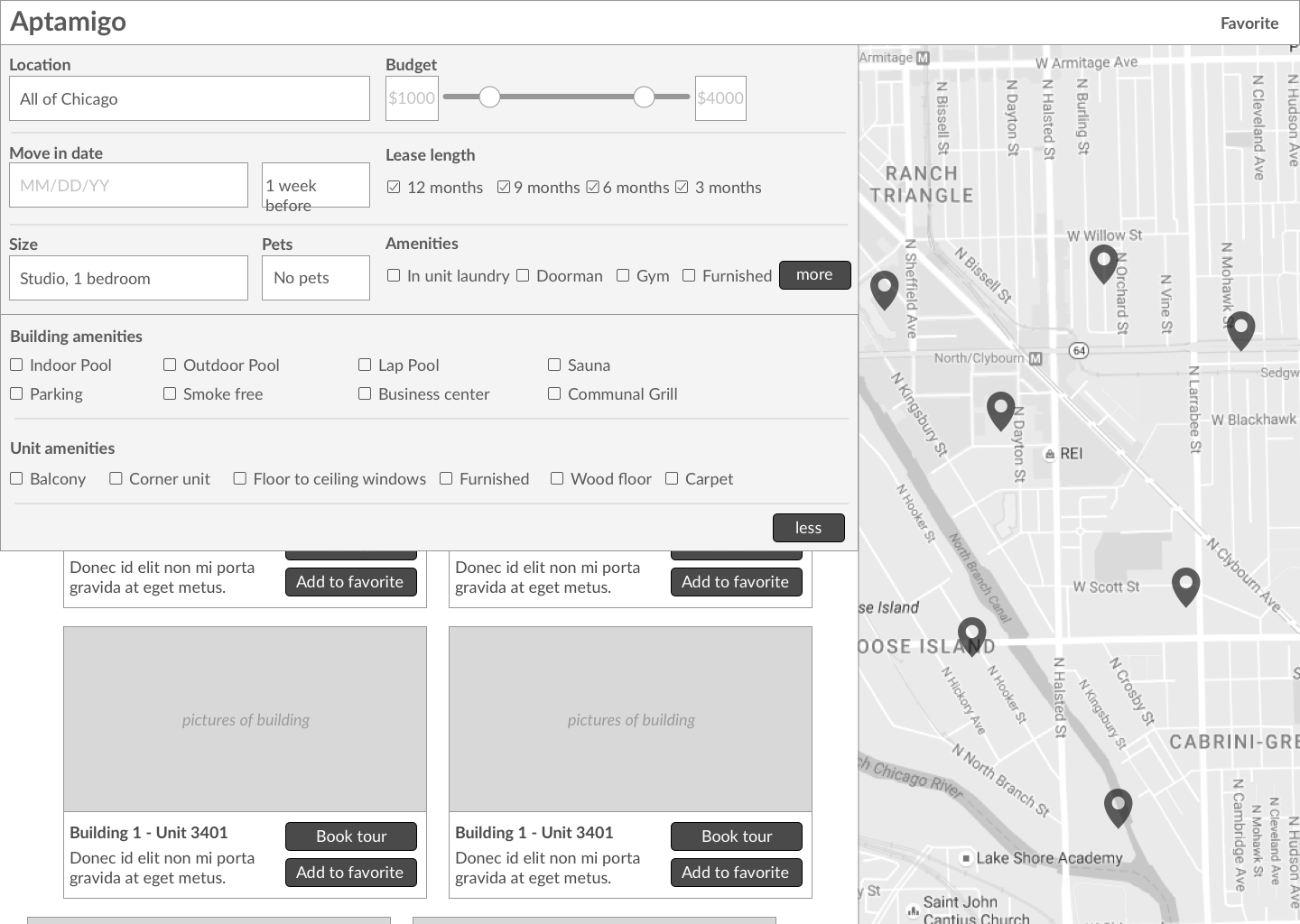 Renter questionnaire and filters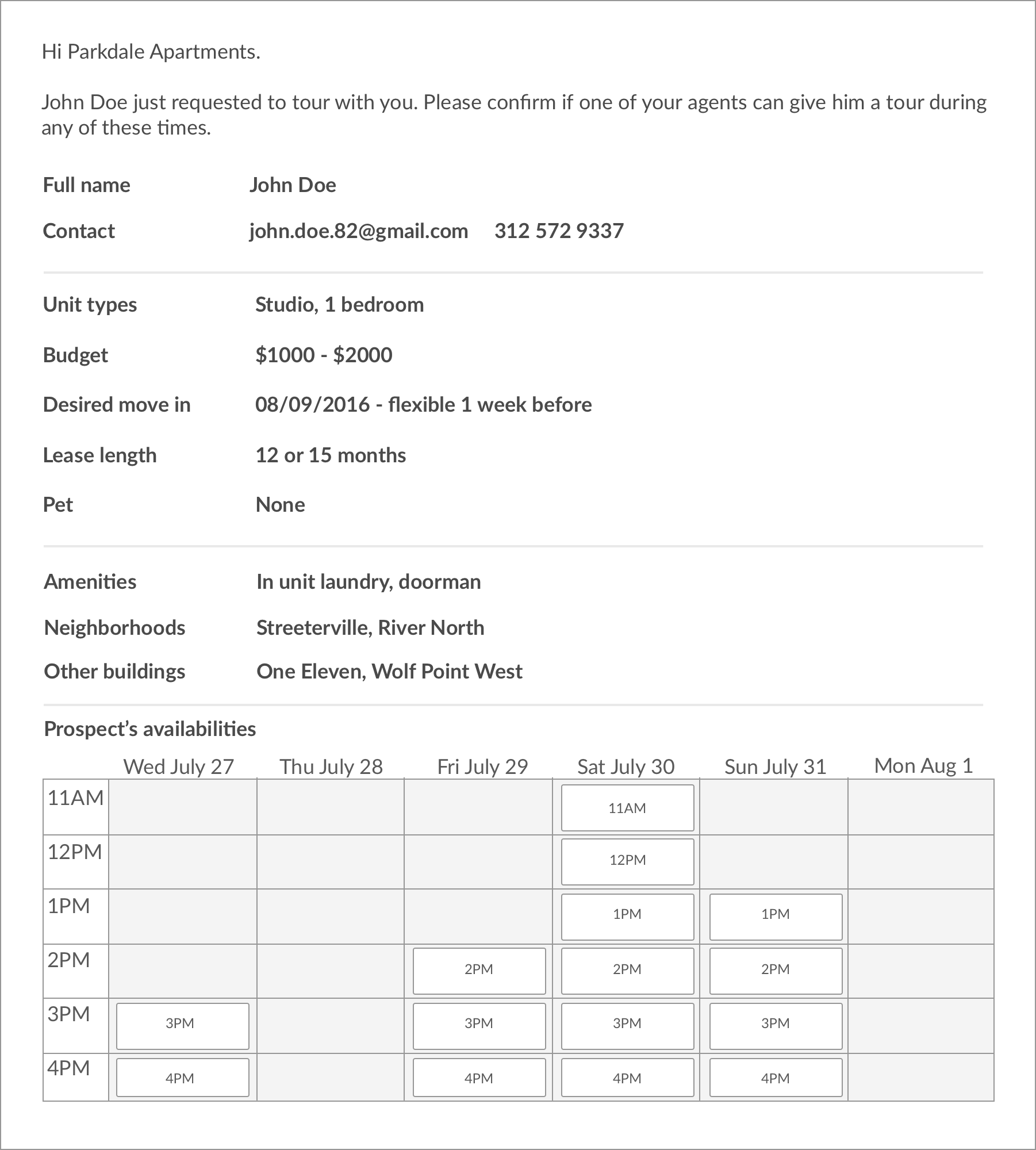 "A lead" that leasing agents would receive based on the information provided in above questionnaire
"Book a tour whenever I want" vs "definitely don't allow unmonitored booking"
Renters want the ability to lock tours into leasing agents' calendars similar to how they would book a restaurant on OpenTable. Initially, we were requested by the client to build something to meet the aforementioned need, however, we found that this would be impossible when those prototypes elicited strong negative feedback from leasing agents. Instead, in our final concept we drew inspiration from my experience with booking interviews at my former job by implementing a Doodle-style calendar where renters could indicate their availabilities and agents would then choose to book from the given availability. This creates an illusion of instant booking that the renters want but also keeps the leasing agent's calendar private.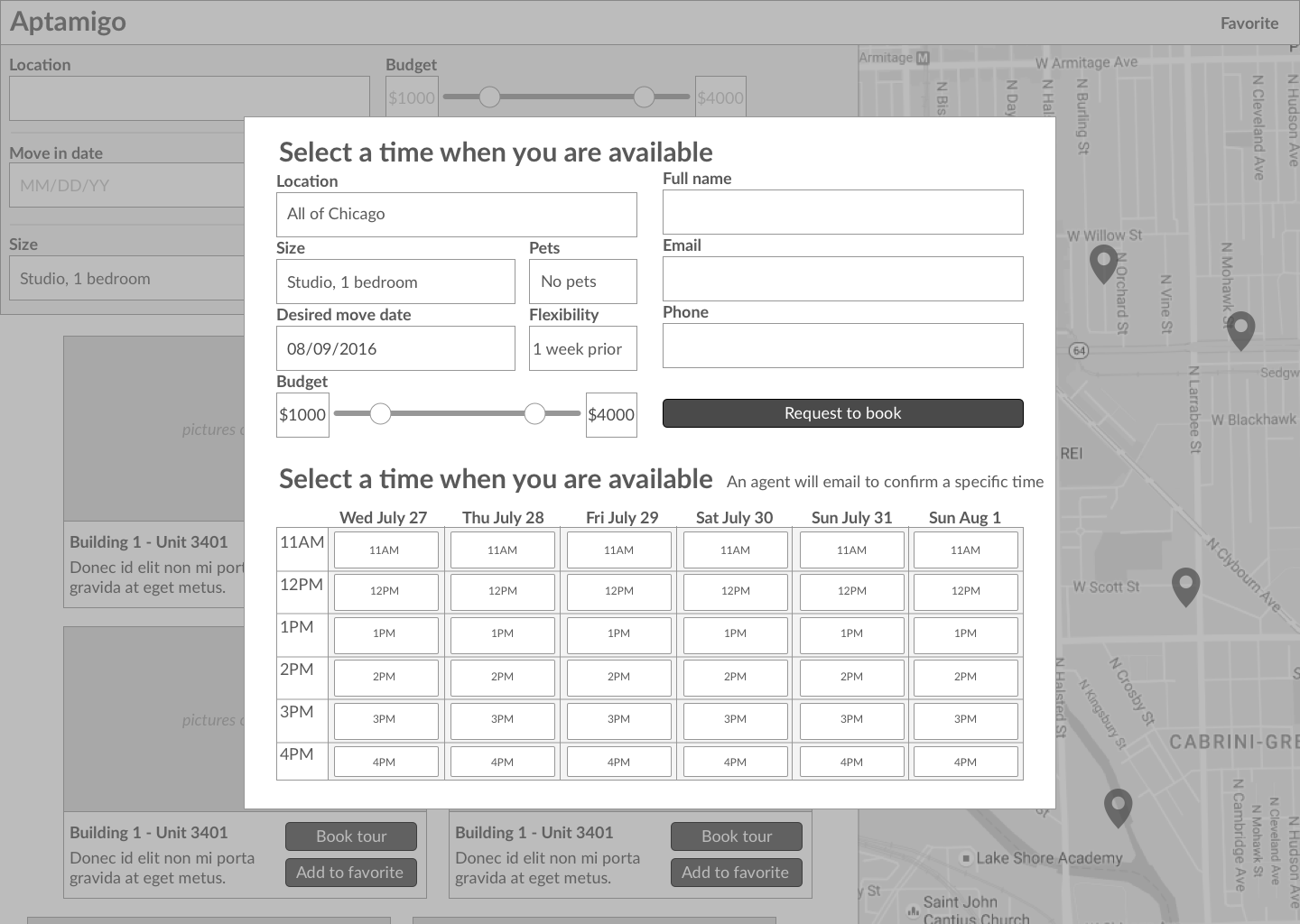 Instead of providing leasing agents' calendar for direct booking, prospective renters indicate their availabilities and request to book a tour
Everyone wants to save time coordinating tours
By requesting that prospective renters provide their availabilities to tour apartments, this alleviated much of the email and phone call back and forth that seems to happen in much of the renter and agent relationship. Renters are happy to provide their availability as they want to save time and leasing agents would have asked for this information in a phone call or email anyway. We also developed a way for renters to manage multiple bookings as this was a top concern for renters on tight schedules (relocators, busy people, etc.).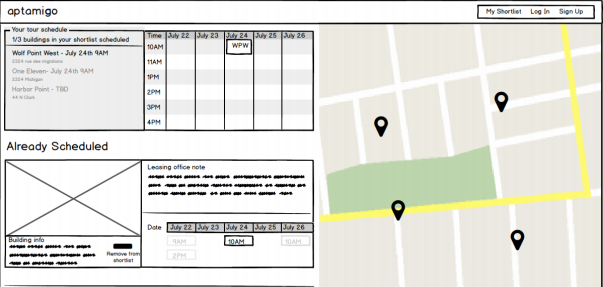 Busy renters have the ability to view their tour schedules